Follow Your Favorites!

Sign in
to get custom notifications of new products!

Featured Product
The Ages of Superman: Essays on the Man of Steel in Changing Times
by McFarland

Since Superman first appeared on the cover of Action Comics #1 in 1938, the superhero has changed with the times to remain a relevant icon of American popular culture.
By looking at the many changes the Man of Steel has undergone to remain pertinent, this volume reveals as much about America as it does about the champion of Truth, Justice, and the American Way.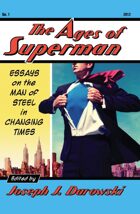 | Products found in this section... | Sort by: |
| --- | --- |
| | | |
| --- | --- | --- |
| Title | Publisher | Price |
| Pepper&Carrot is about "Pepper", a young witch and her cat, "Carrot". They live in a fun fantasy universe made of potions, magic and creatures. It's a comedy/humor webcomic suited for everyone. No mature content, no violence. This book contains a collection of the artworks, sketches and concept-art of the first six years of the webcomic Pepper&Carrot, all of them carefully packed and commented... [click here for more] | David Revoy | $3.50 |
| Zowie! Cartoons is a vault of vintage vixen com strips! Burlesque dancers, mermaids, maraca girls, office ladies, homewreckers, harem slaves, nude models, bikini bunnies, chorus cuties, hot housewives, debutantes, and party queens! 100 Big Pages!... [click here for more] | Mini-Komix | $3.00 $0.99 |
| Bachelor Comics is for all singles that salivate for good girls from the Golden Age. Foxy farmers' daughters, striptease dancers, gorgeous models, babes on the beach, nubile newlyweds, beauty contestants, curvy gunslingers, harem girls, shining showgirls, hot hula ladies, cocktail cuties, and chorus line sirens! 100 Big Pages!... [click here for more] | Mini-Komix | $3.00 $0.99 |
| Campus Humor is a collegiate collection of high flying funnies! Sexy secretaries, beauty queens, delicious debutante, burlesque babes, hot harems, sultry singers, beach bunnies, and naughty neighbors! 100 Big Pages of comic cuties!... [click here for more] | Mini-Komix | $3.00 $0.99 |
| T.N.T. Humor is Golden Age cutie comics. Good girls comic strips of torch singers, hula dancers, artist models, strippers, bikini babes, cigarette girls, cavewomen, burlesque babes, blushing brides, and hot honeymooners. 100 Big Pages... [click here for more] | Mini-Komix | $3.00 $0.99 |
| Monsters are running amok! An anthology of '60s monster comics! Starring the Chalton acyion heroes Vs. Monsters! Including silver age comics, a pinup gallery by Jay Piscopo and more! The Peacemaker, Blue Beetle, Peter Cannon: Thunderbolt and more! ... [click here for more] | Public Domain Comics | $0.99 $0.79 |
| Monsters are running amok! An anthology of '60s monster comics! Starring the original misunderstood monsters of comics, Frankenstein and the Heap! ... [click here for more] | Public Domain Comics | $0.99 $0.79 |
| Horror Comics Coloring Book captures public domain monsters from the Golden Age of comics for you to color in as you want! Vampires, aliens, witches, goblins, mutants, skeletons, demons, ghosts, zombies, banshees, dragons, reapers, gargoyles, werewolves, mummies, freaks, sorcerers, sea monsters, scream queens, and horror hosts! 64 Big Pages!... [click here for more] | Mini-Komix | $0.75 $0.60 |
| Comic Clipart: Heroes is a features Golden and Silver Age superheroes! Crusading characters like: Rulah, Dynamo, Black Cat, Mary Marvel, Captain Courageous, Ace Harlem, Blue Beetle, Ann of the Amazon, Dollman, Mark Trail, Cave Girl, Phantom Lady, Lightning, Judy Of The Jungle, No-Man, Uncle Sam, Tiger Girl, and Captain Toosie! Convenient clip art, and all in color!... [click here for more] | Mini-Komix | $1.50 $0.50 |
| Candid Tales are foxy female funnies from the Forties! This includes comic strips of beach bunnies, pretty pinups, cocktail cuties, lingerie lasses, hula hotties, bodacious burlesque, harm honeys, milky mermaids, and dancing divas! 100 Big Pages!... [click here for more] | Mini-Komix | $3.00 $0.99 |
| Comic Clipart: Good Girls has funny females and glamour gals from the Golden Age. Cute clipart of various characters like Mopsy, Bonnie, Farmer's Daughter, Bikini Luv, and Malu the Slave Girl! Convenient clip art, and all in color!... [click here for more] | Mini-Komix | $2.00 $0.75 |
| Comic Clipart: Horror is a whole haunted house of Golden, Silver, and Bronze Age terror! Monsters and madmen like: Dr. Death, Man In Black, and Dr. Graves. Convenient clip art, and all in color!... [click here for more] | Mini-Komix | $1.50 $0.50 |
| The greatest heroes of the golden age of comics are turning 80! This volume features The Black Terror, one of the first anti-hero icons in comics!  ... [click here for more] | Public Domain Comics | $2.99 $0.99 |
| Funnies For Fellas are a classic collection of cutie comics from the 1940s! Mirthful men's comic strips of curvy coeds, wonderful waitresses, hottie housewives, burlesque beauties, harem honeys, lingerie ladies, stunning showgirls, bachelorette babes, and more! 100 Big Pages of foxy fun!... [click here for more] | Mini-Komix | $3.00 $0.99 |
| The greatest heroes of the golden age of comics are turning 80! This volume features the Shield! Featuring golden age comics, historical reference and a special pin-up gallery by the incredible Jay Piscopo! ... [click here for more] | Public Domain Comics | $2.99 $0.99 |
| Comic Clipart: Retro Men is a gathering of guys from the Golden Age. Creative characters like cowboys, detectives, gangsters, soldiers, and teenage heartthrobs! Convenient clip art, and all in color!... [click here for more] | Mini-Komix | $1.50 $0.50 |
| Comic Clipart: Romance has lovely ladies and smiling gents dating from the Golden Age of comics! Convenient clip art, and all in color!... [click here for more] | Mini-Komix | $1.50 $0.50 |
| Comic Clipart: Cartoons is a collection of comics characters from the Golden Age! This includes favorites like Dixie Dugan, Pidgy the Pidgeon, and Upan Atam! Convenient clip art, and all in color!... [click here for more] | Mini-Komix | $1.50 $0.50 |
| Mirth Comics is a collection of old fashion comic strips from the Forties! Humorous satire starring bachelorettes, beach babes, farm girls, tiki tarts, gold diggers, hot housewives, burlesque bunnies, sexy soldiers, belly dancers, starlets, sultry swingers, beauty queens, an models to melt for! 100 Big Pages!... [click here for more] | Mini-Komix | $2.99 $0.99 |
| The greatest heroes of the golden age of comics are turning 80! This volume features the Shield! Featuring golden age comics, historical reference and a special pin-up gallery by the incredible Jay Piscopo! ... [click here for more] | Public Domain Comics | $5.99 $0.99 |
| The greatest heroes of the golden age of comics are turning 80! This volume stars The Hangman! Featuring golden age comics, historical reference and a special pin-up gallery by the incredible Jay Piscopo! ... [click here for more] | Public Domain Comics | $2.99 $0.99 |
| The greatest heroes of the golden age of comics are turning 80! This volume features The Black Terror, one of the first anti-hero icons in comics!  ... [click here for more] | Public Domain Comics | $2.99 $0.99 |
| A-Bomb Era Comics splits the atom of sci-fi stories from the Golden and Silver Age of comics. 100 Big Pages Astounding adventures like *The Earth Conquerors *What Are You Going To Do With Your Future Joe? *Nightmare Among The Stars *The Man Who Stepped Out Of A Cloud *Sleeping Giant *Gullible's Travels *The Scrambler *Past Haunting *Nothing... [click here for more] | Mini-Komix | $0.99 $0.79 |
| Laughs And Ladies are Golden Age comic strips of hotties with humor! Cutie comedy with harem girls, burlesque babes, melting models, hot honeymooners, naughty neighbors, dream dolls, jungle jewels, beach bunnies, plus the full-length saucy story of The Fried Piper Of Bam Bam! 100 Big Pages of female funnies!... [click here for more] | Mini-Komix | $0.99 |
| The greatest heroes of the golden age of comics are turning 80! This volume features Mr. Justice! Featuring golden age comics, historical reference and a special pin-up gallery by the incredible Jay Piscopo! ... [click here for more] | Public Domain Comics | $2.99 $0.99 |
| Adult Humor is a fancy flock of fantastic funnies from the Forties! Rib ticklers about bathing beauties, lingerie ladies, hula hotties, seductive starlets, beautiful brides, nubile nurses, harem honeypots, spicy showgirls, attractive actresses, burlesque babes, curvy cowgirls, and desirable dancers! 100 Big Pages!... [click here for more] | Mini-Komix | $3.00 $0.99 |
| Mr. Mystic's Mystical Comics collects the first 5 newspaper chapters of Will Eisner's original superpowered hero. 100 Big Pages of supernatural thrills and chills! Also included are several magical tales from classic comics including: *Witch's Way *The Whirlpool *Moon Magic *The Valcourt Ring *Evil Essence *Beyond The Door Of Death *The Mystery Ships *Beliefs About Ghosts *The Striped... [click here for more] | Mini-Komix | $0.99 $0.79 |
| The Radical Red Demon collects the entire adventures of the original dark defender of comics! This Golden Age superhero is in reality Judge Straight, but when criminals slip through the cracks of justice he dons the daredevil disguise of Red Demon. All four chapters of Harvey Comics' masked man, and for the first time in color!... [click here for more] | Mini-Komix | $2.00 $0.75 |
| Pulp Science-Fiction takes the grit-heavy genre of dime novels with otherworldly comic books. 100 Big Pages of monsters, aliens, robots, zombies, witches, time travel, and mad science! Featuring greats like: *The Man With A Screw Loose *Premonition *If This Be Earth *Yawning Graves *Journey Through Time *The Deciding Factor *Eternal Death *Mr. Hobbs' Vacation *The Sun Maker *Nightmare... [click here for more] | Mini-Komix | $0.99 $0.79 |
| Sci-Fi Schlock Comics mixes outer space action with cheesy late-nite movie madness! There's classic comic book stories like The Conquered Earth, The Great Escape, Off Limits, The Machine Men Of Mars, All Alone, The Specimen, Spiro The Space Spy, The Ugly One, The Amazing Guest Of Planet 23, We Are Among You, The Contaminated Space Man, What's Your Act?, The Girl Out There, Target: Earth, The Omnipotent... [click here for more] | Mini-Komix | $0.99 $0.79 |
| The greatest heroes of the golden age of comics are turning 80! This volume features Mr. Justice! Featuring golden age comics, historical reference and a special pin-up gallery by the incredible Jay Piscopo! ... [click here for more] | Public Domain Comics | $2.99 $0.99 |
| Cheesecake Comics is a good girls collection of Golden Age comic strips. Sexy singles, gold diggers, pub crawls, sugar daddies, model minxes, fashionistas, beach babes, hula hotties, dancing dames, hot hillbillies, and curvy cavegirls! 100 Big Pages!... [click here for more] | Mini-Komix | $3.00 $0.99 |
| Real Spicy Horror Tales are crazy creepy classic comics in color! There's wicked werewolf women, heavenly harem hotties, dynamic dolls on dinosaurs, malicious mutant maidens, pretty princesses in peril, and sexy sultry spectacular space sirens! 100 Big Pages!... [click here for more] | Mini-Komix | $1.99 $1.39 |
| Down Under Wonders is a collection of Australian comic book heroes from the Golden Age! This includes the very first Captain Atom, Jet Fury, Phantom Ranger, Devil Doone, plus Catman & Kit! Awesome adventures from Australia! 100 Big Pages!... [click here for more] | Mini-Komix | $0.99 $0.79 |
| Admonishing Stories are dark vintage comics of horror, sci-fi, fantasy, superheroes, and cultism. Vampires escape from The Asylum, Hell Rider begins his crusade, The Joke breaks the atomic age, a gory gardener cuts into Flowering Death, undertakers undermine in Crypts And Graves, The Wild Bunch hits the road, dive into The Secret Files Of Dr. Drew, learn the history of The Vampire Hunters, Of Sudden... [click here for more] | Mini-Komix | $0.99 $0.79 |
| After Hours Funnies is a collection of Golden Age comic strips. The work day is over, and time to paint the town red. Adult humor of cocktail parties, night clubs, burlesque shows, steamy dates, hot honeymoons, and bedtime stories. 100 Big Pages!... [click here for more] | Mini-Komix | $3.00 $0.99 |
| Sentimental Schlock Comics is romance mixed with horror, fantasy, and science-fiction! Love stories spanning across time, space, and the grave! 100 Big Pages! Enjoy heart pounding tales like: *Castle Of Fear *The Door *Clumsy *The Mirror Of Mystery *Valley Of Life *She's Weird *Artist Of Evil *The Gossip *Voodoo Dolls *The Biggest Thing In The World *A Strange Kiss *Mystery From Mars... [click here for more] | Mini-Komix | $0.99 $0.79 |
| The greatest heroes of the golden age of comics are turning 80! This volume features Captain Battle! Featuring golden age comics, historical reference and a special pin-up gallery by the incredible Jay Piscopo! ... [click here for more] | Public Domain Comics | $5.99 $0.99 |
| Cabaret Comics is a bubbly bundle of bizarre burlesque! Golden Age comic strips of showgirls, strippers, chorus dancers, cigarette girls, models, torch singers, and other cartoon cuties both on and behind the stage! 100 Big Pages of fast fetching females!... [click here for more] | Mini-Komix | $3.00 $0.99 |
| Aces & Angels has some of the best Golden Age heroes in the history of comics! Starring Captain Midnight, Nyoka the Jungle Girl, Star Pirate, Val Storm, Captain Comet: Space Ranger, Kitty Carson, Mysta of the Moon, Kaanga, Gara the Jungle Man, and Captain Terry Thunder! 100 Big Pages of space sagas, wild west, jungle action, air raiders, undersea terrors, and mystery men!... [click here for more] | Mini-Komix | $0.99 $0.79 |
| A magazine dedicated to the new indie publishers using public domain characters in their original titles. Featuring special previews of Captain Z-Ro, from Visual Comics, Golden Kids' The Flame #0 and Three Sisters, by Michael Norwitz. Also featuring: Electro Belton's Lash Lightning, Lil' Terror by Dave Windett, pulp stories starring The American Crusader... [click here for more] | Public Domain Comics | $2.99 $0.99 |
| Monsters are running amok! An anthology of '60s monster comics by comic legends Steve Ditko and Joe Gill! ... [click here for more] | Public Domain Comics | $0.99 $0.79 |
| Krusader Komix is fearless famous fanzine heroes from the Golden Age of underground comics! The 60s were the dawn of Ama-Heroes, original amateur heroes made for fans, by fans. Starring Xal-Kor the Human Cat, White Canary, Goodguy, The Defender, Martin Grimm, Sorcerer's Apprentice, The Eclipse, Thunderbunny, Matrix, Space Guardian, Doctor Weird, and The Eye! 124 pages of rare original superheroes!... [click here for more] | Mini-Komix | $0.99 $0.69 |
| The greatest heroes of the golden age of comics are turning 80! This volume features the golden age adventures of Cat-Man! Plus a special preview of our new series Public Domain Team-Up! ... [click here for more] | Public Domain Comics | $2.99 $0.50 |
| Monsters are running amok! An anthology of '60s monster comics by comic legends Steve Ditko and Joe Gill! ... [click here for more] | Public Domain Comics | $0.99 $0.79 |
| Armed Forces Funnies collects Golden Age comic strips of soldiers in the Army, Navy, Air Force and Marines! USO shows, budding bunkmates, silly sailors, merry marches, jolly generals, stymied sarges, and foxy females! 100 Big Pages of military madness!... [click here for more] | Mini-Komix | $3.00 $0.99 |
| British Sci-Fi Comics collects science-fiction funnies from across the pond. Golden and Silver Age all-stars like Captain Future, Space Commander Kerry, Red Avenger, Space Pilot, Captain Condor, and the Spacetroopers! 100 Big Pages of hi-tech futuristic fun!... [click here for more] | Mini-Komix | $0.99 $0.79 |
| Octobriana is The First Russian Superheroine! Originally introduced as a European fanzine character, the time-traveler was brought into the world of Russian underground comics as a radioactive immortal with super strength that battles invading hordes, giant monsters, and the forces of oppression! This Silver Age siren is living proof that you don't come between an amazon and her cola!... [click here for more] | Mini-Komix | $0.99 |
| Super Soldier Stories is a collection of classic comics starring patriotic protectors. Golden Age superheroes who fight for American freedom. Starring V-Man, V-Boys, Minute Man, Miss America, Flag Man, Rusty, Super-American, Pat Patriot, Man Of War, Spy Smasher, Miss Victory, The Eagle and Buddy the Daredevil Boy! They fight Nazis, supervillains, masterminds, spies, robots, and more! 88 pages of exciting... [click here for more] | Mini-Komix | $0.99 $0.79 |
| In ages long past someone built a barrow for a prince, and laid him to rest--or so they thought. The bodies of his wife and a few of his descendants found their way there as well before the barrow fell into disuse and was in time forgotten. And now, perhaps, after centuries have slipped by, the hour may have arrived for the prince to return, and with him relics of great power. Set in the Known World--setting... [click here for more] | Aegis & Gorgon | $9.99 |