Follow Your Favorites!

Sign in
to get custom notifications of new products!

Featured Product
You Are Not Alone (A Trinity Continuum: Aberrant Comic)
by Onyx Path Publishing
Gillian Jericho is a young blogger with the interview of a lifetime: the mysterious Antaeus of Team Tomorrow. He's a nova, one of the superpowered beings that started to appear in the world ten years ago. But the interview takes a bizarre twist, and Gillian soon learns why Antaeus wants to speak to her...and some of the hidden secrets about the world of Trinity Continuum: Aberrant.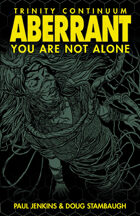 | Products found in this section... | Sort by: |
| --- | --- |
| | | |
| --- | --- | --- |
| Title | Publisher | Price |
| Taking place in a Dungeons & Dragons setting, this ongoing comedy/adventure comic features a group of goblins that have decided that they can no longer be XP fodder for the scores of low-level adventurers who are constantly attacking them. This story forces any roleplayer who has ever squished a goblin, orc or similar beastie to see things from the monster's point of view. The epic... [click here for more] | Goblins Comic | $25.00 |
| The Collected Dork Tower Volume X! DORK TOWER IS BACK! The fan-favorite, critically acclaimed comic returns with the eagerly awaited THE TAO OF IGOR! It's the big day—Mud Con! But is its new director, Igor, ready? Or even awake? And what of Matt, Gilly, Carson, Ken, Sujata, and the rest of the gang? Great for new readers, a delight for long-time fans, THE TAO OF... [click here for more] | Dork Storm Press | $24.99 |
| The Dork Tower comic strip premiered in the pages of Shadis Magazine. In this volume every strip from Shadis and every strip from Dragon Magazine are being reprinted here in chronological order. Dork Decade is the first full-colour Dork Tower collection ever, and contains creator John Kovalic's notes, tons of extra material, developmental sketches, and surprise... [click here for more] | Dork Storm Press | $12.99 |
| Taking place in a Dungeons & Dragons setting, this ongoing comedy/adventure comic features a group of goblins that have decided that they can no longer be XP fodder for the scores of low-level adventurers who are constantly attacking them. This story forces any roleplayer who has ever squished a goblin, orc or similar beastie to see things from the monster's point of view. From the... [click here for more] | Goblins Comic | $25.00 |
| Gillian Jericho is a young blogger with the interview of a lifetime: the mysterious Antaeus of Team Tomorrow. He's a nova, one of the superpowered beings that started to appear in the world ten years ago. But the interview takes a bizarre twist, and Gillian soon learns why Antaeus wants to speak to her... and some of the hidden secrets about the world of Trinity Continuum: Aberrant. This comic... [click here for more] | Onyx Path Publishing | $6.99 |
| What does Star Wars, World of Warcraft and Spiderman have in common? Why is metal music the most important thing in life? Do you know how to survive in the winter mountains? Welcome to the second dive into the vaults of Chez Cuckoo, this strange and funny comic so popular in Norway since 2000, and with a growing international online audience today. Chez Cuckoo is an ongoing comic... [click here for more] | Working Sloth Comics | $6.99 |
| Welcome to the weird, crazy, and funny world of Chez Cuckoo! Chez Cuckoo is an ongoing story about very different people living together, their everyday disasters, and general screw-ups. In 2004, the metal musician Ronny still lives with Kathy and their son Balder, and Toby is still religious. At this time, Kathy's brother Jens is also part of the comic. The rest of the cast... [click here for more] | Working Sloth Comics | $6.99 |
| Story and art by Mark Mullaney. NINJA BEAR is the story of a little bear who is also a ninja, on a quest to save his teacher who was taken by an evil force. On the way, Ninja Bear meets weird creatures, explores amazing places, and occasionally saves the day. ... [click here for more] | Red Stylo Media | $3.99 |
| What is the Chez Cuckoo Matrix? Did these guys really stop an alien invasion? Who is the fattest loser? And how is Chez Cuckoo really made? Welcome to the weird, crazy, and funny world of Chez Cuckoo, and to the third English collection of stories from the vault. In this issue, you can read various Chez Cuckoo stories from 2006 to 2007, never published in English before. You don't... [click here for more] | Working Sloth Comics | $6.99 |
| Taking place in a Dungeons & Dragons setting, this ongoing comedy/adventure comic features a group of goblins that have decided that they can no longer be XP fodder for the scores of low-level adventurers who are constantly attacking them. This story forces any roleplayer who has ever squished a goblin, orc or similar beastie to see things from the monster's point of view. In this volume,... [click here for more] | Goblins Comic | $25.00 |
| Pewfell, the world's most irresponsible wizard, is about to face his greatest challenge yet: fatherhood! His wife pregnant and his home collapsing, Pewfell takes a job with the city sewer patrol. But with a zombie-mad dictator running the government and a bloodthirsty army of chaos outside the gates, this may not be the best time to start a family. Join our hero as he deals with dirty diapers,... [click here for more] | Planet Urf Entertainment | $53.99 |
| Join Captain "Stratosphere" Jack McGraw as he takes to the skies in the experimental airship Daedalus II with her crackerjack crew: Dorothy "Doc" Starr, Edward "Duke" Willis, Carl "Rivets" Holloway and Charlie "Deadeye" Dalton. Plot a course for Roaring Twenties globetrotting discovery and two-fisted adventure, as Jack and the crew... [click here for more] | Deep7 | $11.46 |
| It was she who created the Nemsiiki mark. But her name has been erased from its history, along with her deeds and contributions. Now the Mallean Order has sent two warriors, noble Lingen and his loyal protégé Behryn, to Senserealm to seize a fugitive accused of betraying the temple. Determined to fulfill their mission, Lingen and Behryn unwittingly head towards a confrontation with an ancient... [click here for more] | Corridor Media | $19.95 $8.96 |
| THE COMICS ANTHOLOGY WHERE HALLOWEEN, HORROR & HUMOR COLLIDE CONTINUES!... More Terror-ific Trick or Treats from the comics group that gave you "Heavy Metal Monsters" & "Rock 'n' Roll Comics". Special "Rock 'n' Roll, "B-Movie" visions of Halloween issue with art & stories by Scott Jackson (Rock 'n' Roll Comics), Dennis Worden (Stickboy), Brad Moore (Bathory), Ralph Reese... [click here for more] | Scott Jackson Comic Works | $7.99 |