Follow Your Favorites!

Sign in
to get custom notifications of new products!

Featured Product
Shadowman [BUNDLE]
by Valiant Comics
There's a million dreams in the Big Easy. But now its worst nightmare is about to come true. As the forces of darkness prepare to claim New Orleans as their own, Jack Boniface must embrace the legacy he was born to uphold. As Shadowman, Jack is about to become the only thing that stands between his city and an army of unspeakable monstrosities from beyond the night.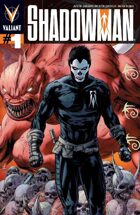 | Products found in this section... | Sort by: |
| --- | --- |
| | | |
| --- | --- | --- |
| Title | Publisher | Price |
| The Green Hornet: The Prose Adventures are pulp stories featured in Golden Age comic books. The masked man and his partner Kato constantly fight evil clowns, spies, saboteurs, bandits, murderers, grave robbers, and rival race cars! 37 action-thrilled episodes of the classic Green Hornet comics character! 84 pages long, and in color!... [click here for more] | Mini-Komix | $2.00 $0.99 |
| Perhaps the World's finest fantasy art and cosplay magazine. Dozens of printable poster/print quality images, plus random riddles, magic items. dungeon annd city maps. Plus a Unique ancient artifact suitable for most role playing game systems. DunJon Fantasy Femme Fatale eZine as it names suggests is fantasy art magazine that primarily focuses upon femme fatales. (Beautiful, yet dangerous women.)... [click here for more] | Stainless Steel Dragon | $3.99 $1.99 |
| Skywald Scares are screaming stories from the Bronze Age comics publisher, Skywald Publications. Creepy comics featuring: How To Make A Mummy, Old Horrors, The Day That Satan Died, Monster In The Grave, Greed, From Hell To Eternity, The Town That Crumbled, The Death Pit, This Is Your Life Sam Hammer, The Narrative Of Skut, Phantom Of The Rock Opera, The Gruesome Faces Of Mr. Cliff, If I Should Die... [click here for more] | Mini-Komix | $3.00 $0.99 |
| Magazine Monsters is a collection of comics from horror magazines. 100 Big Pages of petrifying pulp! This awing anthology contains tales of terror like: *Her Majesty The Corpse *The Arist's Other Hand *Don't Die Up There Stanley *Tomorrow The Snowman Will Kill You *Cassandra: Sorceress Of The Seventh Wind *The Dead And The Superdead *Requiem For A Human Being *The Classic Creeps *Hit And... [click here for more] | Mini-Komix | $3.00 $0.99 |
| Sass Parilla the Singing Gorilla hosts this classic comic collection of fabulous females and awesome apes in Girls and Gorillas! The boss blue bassist narrates some of the strangest stories of the Golden Age where heavenly heroines clashed with gargantuan gorillas. Starring: Sheena, Starr Flagg, Thun'da, Cave Girl, Kaanga, Fantomah, and Vooda! 100 Big Pages!... [click here for more] | Mini-Komix | $0.99 |
| The greatest heroes of the golden age of comics are turning 80! This volume stars the first muck monster in comics, the Heap! Featuring golden age comics, historical reference and a special pin-up gallery by the incredible Jay Piscopo! ... [click here for more] | Public Domain Comics | $2.99 |
| Ditko Madness is a collection of the strange works of Steve Ditko, the co-creator of Spider-Man! 100 Big Pages of fantasy, horror, sci-fi, and giant monsters! Weird tales to astound like: *The Night People *You Are The Jury *Buried Alive, *The Worm Turns *Inheritance *A World Of His Own *No Bars Could Hold Him *The Mark Of The Ripper *Triple-Header *What Was In Sam Dora's Box? *The Unicorn... [click here for more] | Mini-Komix | $0.99 |
| Real Spicy Horror Tales are crazy creepy classic comics in color! There's wicked werewolf women, heavenly harem hotties, dynamic dolls on dinosaurs, malicious mutant maidens, pretty princesses in peril, and sexy sultry spectacular space sirens! 100 Big Pages!... [click here for more] | Mini-Komix | $1.99 |
| Psycho Comics are scary stores from classic comic books. 100 Big Pages of psychotic horror and sci-fi! Cilling chapters like: *The Thing In The Mirror *All The Ways And Means To Die *The Hands Of Death *And Then There's Cicero *A Coffin For Captain Cutlass *The Legend Of The Man-Macabre *A Question Of Identity *The Skin And Bones Syndrome *Suffer The Little Children *Museum Piece *Sleep... [click here for more] | Mini-Komix | $3.00 $0.99 |
| SERENITY ROSE is 4'10", painfully shy, and totally into girls. She can also conjure monsters out of ectoplasm, hover 20,000 ft. in the air, and shapeshift anything she sees. Serenity Rose is a WITCH, one of only 57 the world over, a real supernatural oddity... And sadly for her, she lives in the glare of a tiny tourist trap that THRIVES on supernatural oddities. ... [click here for more] | Heart-Shaped-Skull | $5.99 |
| U.K. Komix brings some of the greatest public domain comics from across the pond! This includes British stars like Ace Hart, Captain Future, TNT Tom, Electro Girl, Cheery Gang, Swift Morgan, Masterman, Splash Page, Thunderbolt Jaxon, and the Scientific Investigation Bureau. 100 Big Pages of Britain's Best!... [click here for more] | Mini-Komix | $3.00 $0.99 |
| Scream-Zine is a collection of horror comics from fanzines of the Silver to Bronze Age. This includes tales of the Bogeyman, the Devil himself, vampires, cursed books, burnt bears, wizards, werewolves, gothic girls, undying heads, creative corpses, aliens, and axe murderers. 100 Big Pages long!... [click here for more] | Mini-Komix | $2.99 $0.99 |
| Queens Of The Jungle is a stunning safari of Golden Age congo cuties! A triple feature of stories starring Nyoka the Jungle Girl, Tiger Girl, and the legendary Sheena! These swinging sisters save the savanna from feuding tribes, slavers, stampedes, poachers, pirates, and voodoo! 100 Big Pages!... [click here for more] | Mini-Komix | $0.99 |
| Wonder Wayback Comics are astounding tales from the Golden & Silver Ages. Plenty of action from characters like Captain Tim, Kid Dugan, Mr. Merlin, Richard Venner, Phantom O' The Hills, Robin Hood, Speck Smith, Kansas Kid, Doll Man, Newsreel Cameramen, Mr. Ghost, Dugan Of The Lumberjacks, and Kid Kalahan. 100 Big Pages! Also included are adventures like: *Rocks Of Fate *Fishermen's Luck *Code... [click here for more] | Mini-Komix | $3.00 $0.99 |
| Get In The Horror-Mood is a creepy collection from the Bronze Age comics creators, Skywald Publications. Their titles of Nightmare, Psycho, and Scream were an unholy trinity of horror comic magazines referred to as the "Horror-Mood". Dracula and Frankenstein star in this selection of scary stories from Skywald. 100 Big Pages! Included in this terror tome are: *The Comics Macabre *Daughter Of Darkness... [click here for more] | Mini-Komix | $3.00 $0.99 |
| Down Under Wonders is a collection of Australian comic book heroes from the Golden Age! This includes the very first Captain Atom, Jet Fury, Phantom Ranger, Devil Doone, plus Catman & Kit! Awesome adventures from Australia! 100 Big Pages!... [click here for more] | Mini-Komix | $3.00 $0.99 |
| Ghostly Tales From The Haunted House are creepy comics from the Golden and Silver Age. 100 Big Pages of horror hits! There's scary stories like: *The Night Of The Laughing Wolf *Experiment In Terror *The Devil's Chair *Weird Worlds *The Hole Of Hell *Epitaph *The Green Witch *Peg Powler *Twisted Hands *The Fisherman Of Space *Grip On Life *Picture Of Evil *The Phantom Of Opera *Decapitation... [click here for more] | Mini-Komix | $3.00 $0.99 |
| Krusader Komix is fearless famous fanzine heroes from the Golden Age of underground comics! The 60s were the dawn of Ama-Heroes, original amateur heroes made for fans, by fans. Starring Xal-Kor the Human Cat, White Canary, Goodguy, The Defender, Martin Grimm, Sorcerer's Apprentice, The Eclipse, Thunderbunny, Matrix, Space Guardian, Doctor Weird, and The Eye! 124 pages of rare original superheroes!... [click here for more] | Mini-Komix | $0.99 |
| Mini-Komix plays an All Ages Album for the kid in all of us! This graphic novel collects family friendly short stories like the size-changing superhero known as The Plus, Monster and The Rockits band together, go to the ghastly town of Gloomstadt, the time travelling T.E.D. searches for the Infinity Compass, and more! Comic craziness for the young, and young at heart!... [click here for more] | Mini-Komix | $0.99 $0.50 |
| Baffling Mysteries are stirring startling stories from the Golden to Bronze Age of Comics from all around the world! 100 Big Pages of ghost pirates, robot armies, witchcraft, mutant freaks, alien invaders, and the living dead! Terrifying tales like: *Seat Of Doom *The Absent Heart *Dearly Departed *The Hundred Year Witch *Those Ever-Lovin' Space Shoes *Temple Of The Beast *A Shocking Tale... [click here for more] | Mini-Komix | $3.00 $0.99 |
| Just Werewolf Comics is an anthology of horror stories from the Golden, Silver, and Bronze Age. 100 Big Pages of lycanthrope tales for fans of full moons!... [click here for more] | Mini-Komix | $3.00 $0.99 |
| Sci-Fi/Fantasy Fanzine Art is a collection of illustrations from various Bronze Age publications. This includes barbarians, dinosaurs, aliens, robots, knights, monsters, astronauts, vikings, zombies, princesses, sorcerers, dragons, jungle girls, soldiers, and superheroes. 100 Big Pages!... [click here for more] | Mini-Komix | $0.99 $0.74 |
| "Werewolf The Apocalypse" is about anger over the loss of what the shapeshifting werewolves (the self-named "Garou") hold dearest: Gaia, the earth itself. Corruption from without and within has caused the destruction not only of the garou's environment, but also of their families, friends and culture, which extends in an unbroken line to the very dawn of life. No matter how righteously the garou hold... [click here for more] | White Wolf | $7.99 |
| When it came to jungle girls from the Golden Age of Comics, Rulah Rules! This brunette bombshell crash landed into darkest Africa where she is worshipped as a Jungle Goddess. This sexy swinger gets tangled up in voodoo, harpies, witch doctors, slave traders, monsters, treasure hunters, escaped apes, catgirls, stampedes, kidnappers, and dopplegangers. 100 Big Page of jungle justice, and in color!... [click here for more] | Mini-Komix | $0.99 |
| Dashing Dames is a colorful collection of Golden Age glamour girls! Hot heroines from the beginning of comic books! This all-star lineup includes Lady Fairplay, Black Venus, Ghost Woman, Corsair Queen, Tangi, Lila, Iron Lady, Gail Porter: Girl Photographer, Flame, Fear, Futura, and the Battle Women! 88 pages long, and in color!... [click here for more] | Mini-Komix | $3.00 $0.99 |
| Mister Lucifer's Huge Book Of Horrors is a creepy comics collection. The malicious Mister Lucifer escapes his prison after two thousand years to plague the world with accursed evil. 100 Big Pages of sinful stories! Terrifying tales like: *The Ghoul *Dream, *Man With Hollow Eyes *The Wig-Maker *Huckster *When The Bad Moon Rises I Am A Ghoul *The Werewolf Macabre *Death Rides High *The Ship... [click here for more] | Mini-Komix | $3.00 $0.99 |
| "Werewolf The Apocalypse" is about anger over the loss of what the shapeshifting werewolves (the self-named "Garou") hold dearest: Gaia, the earth itself. Corruption from without and within has caused the destruction not only of the garou's environment, but also of their families, friends and culture, which extends in an unbroken line to the very dawn of life. No matter how righteously the garou hold... [click here for more] | White Wolf | $7.99 |
| Monsters are running amok! An anthology of '60s monster comics! Starring the Chalton acyion heroes Vs. Monsters! Including silver age comics, a pinup gallery by Jay Piscopo and more! The Peacemaker, Blue Beetle, Peter Cannon: Thunderbolt and more! ... [click here for more] | Public Domain Comics | $2.99 $0.99 |
| Just Zombie Comics is a brain-eating bash of the living dead from the Bronze Age. This includes mad scientists, stitchpunks, walking dead, ghouls, necromancy, and creepy corpses! 100 Big Pages!... [click here for more] | Mini-Komix | $3.00 $0.99 |
| Mr. Mystic's Mystical Comics collects the first 5 newspaper chapters of Will Eisner's original superpowered hero. 100 Big Pages of supernatural thrills and chills! Also included are several magical tales from classic comics including: *Witch's Way *The Whirlpool *Moon Magic *The Valcourt Ring *Evil Essence *Beyond The Door Of Death *The Mystery Ships *Beliefs About Ghosts *The Striped... [click here for more] | Mini-Komix | $0.99 |
| Interesting Monsters is a collection of curious creatures from classic comics! Mummies, aliens, werewolves, demons, robots, kaiju, zombies, and grotesque ghouls! 100 Big Pages! Abnormal abominations like: *The Fanged Monster *Horror Tree *The Werewolf *It Will Roam Tonight *The Deadly Little Invaders *Monster In Cloth *The Reuger Formula *Out Of The Unknown *Doom Creatures *Moon Stalker... [click here for more] | Mini-Komix | $3.00 $0.99 |
| Thrilling Throwback Comics is an all out album of adventures from the Golden and Silver Age. Action heroes like TNT Todd, Public Defender, Wild Boy, Doc Holliday, Kitty Kelly, Skipper Ham Shanks, Dudley Dance, Explorer Joe, and The Crusaders. 100 Big Pages of genre-crossing cliffhangers! Included are capers like: *Terror Of The Snows *Late Tour *The Big Wheel Of Bleeker Street *Signal 32 *They... [click here for more] | Mini-Komix | $3.00 $0.99 |
| New York City Police Detective Sara Pezzini is the bearer of the Witchblade, a mysterious artifact that takes the form of a deadly and powerful gauntlet. Now Sara must try to control the Witchblade and learn its secrets, even as she investigates the city's strangest, most supernatural crimes. Contains Issue #1-#8 and a cover gallery. Witchblade created by Marc Silvestri, David Wohl,... [click here for more] | Top Cow | $12.99 |
| Just Vampire Comics is a bloody barrage of Bronze Age comics! Bloodsucking baddies including the prince of darkness himself, Dracula! 100 Big Pages of batty bizarre haunting horror!... [click here for more] | Mini-Komix | $3.00 $0.99 |
| Weird Horrors is a haunted horde of beastly Bronze Age comics. This includes: The Werewolf, Satan's Graveyard, The Giant Death Rat, A Father's Lament, The Penitent, Rot Robin Rot, The Ancient One, At Mind's Edge, Demonic Possession, The Corrupt Shall Dine, The End Of All Vampires, Only The Wretched Die Young, The Night Of The Corpse Bride, and Whence Stalked The Werewolf! 100 Big Pages!... [click here for more] | Mini-Komix | $3.00 $0.99 |
| Monsters are running amok! An anthology of '60s monster comics! Starring the original misunderstood monsters of comics, Frankenstein and the Heap! ... [click here for more] | Public Domain Comics | $2.99 $0.99 |
| Put a shrimp on the barbie for the best public domain comics from down under in Aussie Komix! Australia's awesome alumni like Phantom Knight, Grey Domino, Jet Fury, Glamour Girl, Sir Falcon, Konga, Grey Thorne, the Australian version of Catman, and the original Captain Atom! 100 Big Pages!... [click here for more] | Mini-Komix | $0.99 |
| On the fringes of civilization, the world's first detective is about to make an unholy discovery… Ruled by the Fates. Manipulated by the Gods. Commanded by Caesar. In the year 65 A.D., one's destiny was not his own. At the height of Nero's reign, a veteran of Rome's imperial war machine has been dispatched to the farthest reaches of the colonies to investigate unnatural happenings… In... [click here for more] | Valiant Comics | $7.99 $4.00 |
| Deadly Dames brings you Ghastly Gals, a collection of horror stories from the Golden Age of comics featuring monstrous maidens and evil enchantresses There's voluptuous vampires, murderous mermaids, wicked witches, ghostly girls, snake goddesses, seductive sirens, satanic brides, jungle queens, slinky sorceresses, and women of the web. Crypt cuties and horror hotties get their graveyard groove on in... [click here for more] | Mini-Komix | $0.99 |
| Devilina: Tales of the Sorceress brings the Daughter of the Devil into her own hellish horror anthology! Devilina learns she's a spawn of Satan, and resolves to use her demonic powers to fight her fiendish father! She also narrates terrific Tales of the Sorceress filled with witches, werewolves, ghosts, zombies, robots, space goddesses, cave girls, warrior women, and horror hotties!... [click here for more] | Mini-Komix | $0.99 |
| Subterranean Funnies are comics from the literal underground of the sizzling Seventies! Menacing monsters, zesty zombies, sadistic superheroes, insatiable insects, devious demons, murky murders, sexy space sirens, and creepy cartoon critters! 100 Big Pages of hippie hits!... [click here for more] | Mini-Komix | $3.00 $0.99 |
| A-Bomb Era Comics splits the atom of sci-fi stories from the Golden and Silver Age of comics. 100 Big Pages Astounding adventures like *The Earth Conquerors *What Are You Going To Do With Your Future Joe? *Nightmare Among The Stars *The Man Who Stepped Out Of A Cloud *Sleeping Giant *Gullible's Travels *The Scrambler *Past Haunting *Nothing... [click here for more] | Mini-Komix | $3.00 $0.99 |
| Fan Arts Finest has dozens of artwork of public domain comic book heroes and villains. Featuring: Airboy, All-American Jack, Astroman, Black Cat, Blackhawk, Black Hood, Black Terror, Blue Beetle, Bulletman, Bulletgirl, Captain Atom, Captain Battle, Captain Marvel, Captain Marvel Jr., Captain Midnight, Daredevil, The Dart, Defender, Dragon Lady, The Eclipse, The Flame, Gack, Ghost Rider, Goodguy, Grimmley,... [click here for more] | Mini-Komix | $1.99 $0.99 |
| Mad Science Comics is an insane explosion of re-animated corpses and alien antics! Cases of Cthulu, mutants, space invaders, time travel, vampires, and Frankenstein freaks! 100 Big Pages! Horror and sci-fi hits like: *Game Of Skill *The Mad Nightmare World Of H.P. Lovecraft *The Angry Things *Master Of The Dead *The Victims *The Butcher At The Earth's Core *Shift: Vampire *The Castle *The... [click here for more] | Mini-Komix | $3.00 $0.99 |
| Beach Bum Funnies makes some waves in this collection of classic comedy comic strips. Take the spring break of a lifetime with bikini babes, tropical tikis, hula hotties, and sexy swimsuit sirens. 100 Big Pages of seaside silliness!... [click here for more] | Mini-Komix | $3.00 $0.99 |
| Chilling Tales brings you a barrage of gory horror comics! Creepy classics collected like: Death On Ice, Terror Unlimited, Isle Of Demons, Swamp Haunt, The Corpse Who Killed, Lair Of The Black Widow, Strangling Hands, The Demon Is Dying, Skeletons Have Secrets, Flaming Ghost, Laugh Clown Laugh, Rest In Peril, The Monster From Dimension X, Hybrid Horror, and Locked In Time. 100 Big Pages!... [click here for more] | Mini-Komix | $0.99 |
| Freaky But Funky Comics is a collection of black light funnies from the Bronze Age! Underground antics like mutants, aliens, canine politics, space scooters, acid trips, deranged dinos, and a groovy grim reaper! 100 Big Pages of psychotronic 70s stories!... [click here for more] | Mini-Komix | $3.00 $0.99 |
| Monsters are running amok! An anthology of '60s monster comics by comic legends Steve Ditko and Joe Gill! ... [click here for more] | Public Domain Comics | $2.99 |
| Aces & Angels has some of the best Golden Age heroes in the history of comics! Starring Captain Midnight, Nyoka the Jungle Girl, Star Pirate, Val Storm, Captain Comet: Space Ranger, Kitty Carson, Mysta of the Moon, Kaanga, Gara the Jungle Man, and Captain Terry Thunder! 100 Big Pages of space sagas, wild west, jungle action, air raiders, undersea terrors, and mystery men!... [click here for more] | Mini-Komix | $3.00 $0.99 |
| Mini-Komix mixes together this special collection of our best stories in one groovy tape for a road trip! Meet Kitty Honey the average teen-turned catgirl/superhero who teams up with her sidekick Neko Kamen, Beautiful has young heroes in love, Martian catgirls invade Gaijin Hi, How To Snare looks into an urban life, buccaneers battle the undead in Zombie Vs. Pirate, Rabina is your stereotypical magical... [click here for more] | Mini-Komix | $1.99 $0.99 |