Follow Your Favorites!

Sign in
to get custom notifications of new products!

Featured Product
It Happens at Comic-Con
by McFarland

This collection of 13 new essays employs ethnographic methods to investigate San Diego's Comic-Con International, the largest annual celebration of the popular arts in North America.
The collection seeks to expand fan studies, exploring Comic-Con International more deeply than any publication before it.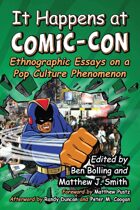 | Products found in this section... | Sort by: |
| --- | --- |
| | | |
| --- | --- | --- |
| Title | Publisher | Price |
| Magazine Toons is a special selection of sexy comic strips from Golden Age magazines! Hilarious hits like Sheila The Stripper, Nifty Nick, and Charlie. Also, pretty pin-ups, perplexing puzzles, and foxy funnies! 100 Big Pages!... [click here for more] | Mini-Komix | $3.00 $0.99 |
| Campus Humor is a collegiate collection of high flying funnies! Sexy secretaries, beauty queens, delicious debutante, burlesque babes, hot harems, sultry singers, beach bunnies, and naughty neighbors! 100 Big Pages of comic cuties!... [click here for more] | Mini-Komix | $3.00 $0.99 |
| Zowie! Cartoons is a vault of vintage vixen comic strips! Burlesque dancers, mermaids, maraca girls, office ladies, homewreckers, harem slaves, nude models, bikini bunnies, chorus cuties, hot housewives, debutantes, and party queens! 100 Big Pages!... [click here for more] | Mini-Komix | $3.00 $0.99 |
| T.N.T. Humor is Golden Age cutie comics. Good girls comic strips of torch singers, hula dancers, artist models, strippers, bikini babes, cigarette girls, cavewomen, burlesque babes, blushing brides, and hot honeymooners. 100 Big Pages... [click here for more] | Mini-Komix | $3.00 $0.99 |
| Bachelor Comics is for all singles that salivate for good girls from the Golden Age. Foxy farmers' daughters, striptease dancers, gorgeous models, babes on the beach, nubile newlyweds, beauty contestants, curvy gunslingers, harem girls, shining showgirls, hot hula ladies, cocktail cuties, and chorus line sirens! 100 Big Pages!... [click here for more] | Mini-Komix | $3.00 $0.99 |
| Adult Humor is a fancy flock of fantastic funnies from the Forties! Rib ticklers about bathing beauties, lingerie ladies, hula hotties, seductive starlets, beautiful brides, nubile nurses, harem honeypots, spicy showgirls, attractive actresses, burlesque babes, curvy cowgirls, and desirable dancers! 100 Big Pages!... [click here for more] | Mini-Komix | $0.99 $0.79 |
| Mirth Comics is a collection of old fashion comic strips from the Forties! Humorous satire starring bachelorettes, beach babes, farm girls, tiki tarts, gold diggers, hot housewives, burlesque bunnies, sexy soldiers, belly dancers, starlets, sultry swingers, beauty queens, an models to melt for! 100 Big Pages!... [click here for more] | Mini-Komix | $0.99 $0.79 |
| Candid Tales are foxy female funnies from the Forties! This includes comic strips of beach bunnies, pretty pinups, cocktail cuties, lingerie lasses, hula hotties, bodacious burlesque, harm honeys, milky mermaids, and dancing divas! 100 Big Pages!... [click here for more] | Mini-Komix | $0.99 $0.79 |
| Funnies For Fellas are a classic collection of cutie comics from the 1940s! Mirthful men's comic strips of curvy coeds, wonderful waitresses, hottie housewives, burlesque beauties, harem honeys, lingerie ladies, stunning showgirls, bachelorette babes, and more! 100 Big Pages of foxy fun!... [click here for more] | Mini-Komix | $0.99 $0.79 |
| After Hours Funnies is a collection of Golden Age comic strips. The work day is over, and time to paint the town red. Adult humor of cocktail parties, night clubs, burlesque shows, steamy dates, hot honeymoons, and bedtime stories. 100 Big Pages!... [click here for more] | Mini-Komix | $0.99 $0.79 |
| Laughs And Ladies are Golden Age comic strips of hotties with humor! Cutie comedy with harem girls, burlesque babes, melting models, hot honeymooners, naughty neighbors, dream dolls, jungle jewels, beach bunnies, plus the full-length saucy story of The Fried Piper Of Bam Bam! 100 Big Pages of female funnies!... [click here for more] | Mini-Komix | $0.99 $0.79 |
| Sci-Fi Schlock Comics mixes outer space action with cheesy late-nite movie madness! There's classic comic book stories like The Conquered Earth, The Great Escape, Off Limits, The Machine Men Of Mars, All Alone, The Specimen, Spiro The Space Spy, The Ugly One, The Amazing Guest Of Planet 23, We Are Among You, The Contaminated Space Man, What's Your Act?, The Girl Out There, Target: Earth, The Omnipotent... [click here for more] | Mini-Komix | $3.00 $0.99 |
| Cheesecake Comics is a good girls collection of Golden Age comic strips. Sexy singles, gold diggers, pub crawls, sugar daddies, model minxes, fashionistas, beach babes, hula hotties, dancing dames, hot hillbillies, and curvy cavegirls! 100 Big Pages!... [click here for more] | Mini-Komix | $0.99 $0.79 |
| The greatest heroes of the golden age of comics are turning 80! This volume features the golden age adventures of Cat-Man! Plus a special preview of our new series Public Domain Team-Up! ... [click here for more] | Public Domain Comics | $0.50 $0.40 |
| Armed Forces Funnies collects Golden Age comic strips of soldiers in the Army, Navy, Air Force and Marines! USO shows, budding bunkmates, silly sailors, merry marches, jolly generals, stymied sarges, and foxy females! 100 Big Pages of military madness!... [click here for more] | Mini-Komix | $0.99 $0.79 |
| Fawcett Publications produced some of the greatest Golden Age superheroes, so get a refresher course with the Fawcett Freedom Fighters! Starring the original Captain Marvel, Captain Marvel Jr., Mary Marvel, Spy Smasher, Ibis the Invincible, Mr. Scarlet, Pinky, Golden Arrow, Phantom Eagle, Nyoka the Jungle Girl, Captain Midnight, Bulletman, Bulletgirl, and Bulletdogl! Say "Shazam" and summon the Secret... [click here for more] | Mini-Komix | $0.99 $0.66 |
| Black, White & Red Comics are a Golden Age collection of funnies done in only 3 colors! 100 Big Pages of 1-page comic strips featuring jungle queens, cheesecake cuties, office ladies, showgirls, naughty newlyweds, cocktail parties, beach babes, heavenly harems, and sexy starlets!... [click here for more] | Mini-Komix | $0.99 $0.79 |
| Girls & Gags is a Golden Age collection of classic cutie comics! Comedy gold featuring hot housewives, groovy gold diggers, sultry secretaries, curvy cavegirls, marvelous models, bodacious brides, heavenly harems, and sexy sugar mamas! 100 Big Pages!... [click here for more] | Mini-Komix | $0.99 $0.79 |
| Jungle Girl Journals chronicles congo queens from the Golden Age of Comics! Sheena: Queen of the Jungle, Tygra, Judy of the Jungle, and Taanda: White Princess of the Jungle in an anthology of amazing amazon adventures! Prose stories of swinging sisters with voodoo, feuding tribes, and the entire wild kingdom!... [click here for more] | Mini-Komix | $0.99 |
| Pin-Up Princesses shouts hooray for Hollywood Highlights! Starlets from the Golden Age of movies like Aquanetta, Josephine Baker, Ann Blyth, Theda Bara, Marian Blanchard, Joan Collins, Ann Corio, Yvonne De Carlo, Dona Drake, Ava Gardner, Hedy Lamar, Dorothy Lamour, Marilyn Maxwell, Maureen O'Hara, Ann Margret, Maria Montez, Lana Turner, and Esther Williams! 100 Big Pages!... [click here for more] | Mini-Komix | $0.99 $0.66 |
| Babes & Buddies is a Golden Age collection of gals, guys, and gags! Military shenanigans with men and women in the armed forces, plus pretty pinups, and antique adult advertisements! 100 Big Pages of luscious laughter!... [click here for more] | Mini-Komix | $0.99 $0.79 |
| Gal Snaps Comics is a collection of good girl comic strips from the Golden Age. This includes naughty newlyweds, busty businesswomen, milky mermaids, foxy farmers, harem hotties, bathing beauties, and nubile nudists! 100 Big Pages!... [click here for more] | Mini-Komix | $0.99 $0.79 |
| Merry Military Funnies are comic strips from the Golden Age starring men and women of the armed forces. Humor of army, navy, and marines, plus the pros and cons of dating during time in the service. 100 Big Pages of good girls and silly soldiers!... [click here for more] | Mini-Komix | $0.99 $0.79 |
| Rainbow Heroes of the Golden Age has colorful crusaders from the dawn of comics! Characters like The Ray, Miss Masque, and Miss America who were later portrayed as LGBTQ. Plus, Jill Trent-Science Sleuth who works with her live-in partner Daisy Smythe, effeminate philanthropist Jasper Dewgood defends the downtrodden, crossdressing crimefighter Madam Fatal, and spaceman Lars Cranston performs his own... [click here for more] | Mini-Komix | $1.49 $1.00 |
| Jolly Dolls Comics is a great gathering of glamorous of Golden Age good girls! Comic strips of sparkling showgirls, marvelous models, bikini babes, cocktail cuties, beautiful brides, darling dancers, and ladies of lingerie! 100 Big Pages!... [click here for more] | Mini-Komix | $0.99 $0.79 |
| Krossover Komiks collects the most terrific team-ups from the Golden Age! The Wizard and The Shield unite in the first crossover in the history of comics, Dollman dates Dollgirl, Mickey and The Kitten form the Little Leaders, and Bulletman meets Captain Marvel Jr.! Cosmic crossovers of heroes of yesterday and legends of tomorrow! 100 Big Pages, and in color!... [click here for more] | Mini-Komix | $0.99 $0.79 |
| Dizzy Dames sends you some Strip Stars! Sexy and sassy sirens from classic comic strips in silly and sensational quick quips! Starring Mopsy, Torchy, Candy, Trudy, and Patty Jo 'n' Ginger.... [click here for more] | Mini-Komix | $0.99 $0.66 |
| Dashing Dames is a colorful collection of Golden Age glamour girls! Hot heroines from the beginning of comic books! This all-star lineup includes Lady Fairplay, Black Venus, Ghost Woman, Corsair Queen, Tangi, Lila, Iron Lady, Gail Porter: Girl Photographer, Flame, Fear, Futura, and the Battle Women! 88 pages long, and in color!... [click here for more] | Mini-Komix | $3.00 $0.99 |
| Heroines & Villainesses of the Golden Age of comics and pulp magazines return in all new adventures. Thrill to tales of Amazona the Mighty Woman, Jill Trent: Science Sleuth, Moon Girl, Vivian Lachan, Flame Girl, Crimson Cobra, Madame Terror, and Rulah the Jungle Goddess. Plus original stories of Ms. Amazing, Lady Midnight, and the Wolf Queen. Written by Terry Alexander, Jason Bullock, Nate Hill,... [click here for more] | Mini-Komix | $2.99 |
| Golden Agers brings forth the Fighters For Fox Features! This publisher from the dawn of comic books created some of the world's greatest heroes. Starring: Jo-Jo, Stardust, Captain Kidd, Space Smith, Yank Wilson, Rocket Kelly, Dagar, Black Fury, Rex Dexter, Jungle Lil, Flick Falcon, and Sub Saunders! 100 Big Pages of legendary lore, and in color!... [click here for more] | Mini-Komix | $0.99 $0.66 |
| Golden Agers has strange adventures on other worlds in Planet Stories! Legends of galactic heroes like Masterman, Captain 3-D, The Warrior-Maid of Mercury, Speedsmith, Captain Valiant, Cometman, The Crusaders, Space Pilot, and Captain Future! Space wars, star saviors, and astro avengers primed with power cosmic!... [click here for more] | Mini-Komix | $0.99 $0.66 |
| Dig this crazy comic we like to call "Eh!". Primed parodies and super spoofs of everything from movies, television, sports, and advertisements from the Golden and Silver Age of comics! Learn how Davy Crockhead Captured America, play What's My Line-Up?, watch Squeeeezerama in 5-D, Maryland Monrowboat has a movie premiere, Satan goes to Earth in Paradise Gained, Hollywood tries Hamlet On Rye, The Four... [click here for more] | Mini-Komix | $0.99 $0.79 |
| Daring Dames spotlights the original bad girl-turned-good girl, Valkyrie! This voluptuous vixen, Liselotte von Schellendorf, first premiered as a Nazi foil for the heroic Airboy, but after a few make-out sessions, she switched from the Axis to the Allies. Valkyrie now helps Airboy with her all-girl Airmaidens shoot down nasty Nazi flyers, and the villainous grim reaper known as Misery. WWII wonder... [click here for more] | Mini-Komix | $0.99 $0.66 |
| Daffy Dames is back with a full blown Color Special! Good girl art from the Golden Age of comics! This includes Torchy, Mopsy, Patsy Pinup, Bunny, G.I. Jane, Canteen Kate, Broadway Babes, Her Highness, Silk, and more! Gags, gals, and gaggles of fun! 100 Big Pages!... [click here for more] | Mini-Komix | $0.99 $0.79 |
| Daffy Dames brings back public domain funny girls from the Golden Age of Comics! Curvy comedy cuties like Sky Girl, Starlet O'Hara, Clarabelle, Miss Bikini Luv, Broadway Babes, Patty-Jo 'n Ginger, Kathy, Just Girls, Mopsy, plus Trudy and Judy! 100 Big Pages!... [click here for more] | Mini-Komix | $0.99 $0.79 |
| Comics Writing: Communicating With Comic Books unveils the basics in comics writing from Steven Philip Jones, a professional comic book writer and instructor. Comics Writing shows you the step-by-step process of creating a comics script and how it is turned into a finished comics page. With the help of examples and comic book illustrations, this book will introduce you to: the different... [click here for more] | Caliber Comics | $7.99 $4.79 |
| Deadly Dames brings you more bad girls from the Golden Age of Comics with murderous macabre stories of Monstrous Maneaters! An underwater explorer comes across a kingdom of sexy mermaids who turn out to be more than just a pretty faces, Dagar the Desert Hawk encounters the scantily-clad Queen Mura and her tribe of amazons who worship giant lizards, slinky snake goddess Mahrana masquerades as an attractive... [click here for more] | Mini-Komix | $0.99 |
| Dizzy Dames brings something for everyone to enjoy in this fabulous collection of comics called Good Girls A Go-Go! We've got Tom, Dick and Harriet taking a trip to the beach, mid-21st Century girl Jetta adjusting to her cosmic new high school, the bodacious Bunny and her sister Honey head to the amusement park hoping to catch their favorite idols, a day in the life of Hollywood star Linda Turner(aka:... [click here for more] | Mini-Komix | $0.99 $0.66 |
| Golden Agers assembles some of Earth's mightiest defenders in Heroes Crossover. Uncle Sam pulls together Spacehawk, Target, White Streak and other heroes to protect America. The original Black Cat teams-up with War Nurse, Shock Gibson, and Captain Freedom to prevent a U.S. invasion. Black Owl, Green Lama, Doctor Frost, Yank and Doodle unite to fight Frankenstein! Black Terror and Timmy are introduced... [click here for more] | Mini-Komix | $0.99 $0.66 |
| Golden Agers merges 2 of its best comics into 1 cataclysmic combo! Strange Heroes has some of the weirdest crime fighters ever, including: Bee-Man, Fly, Glowing Gladiator, Vagabond Prince, Atlas, Magicmaster, and Tyro Team. Bizarre good guys from all over the map!... [click here for more] | Mini-Komix | $0.99 $0.66 |
| Take off to the Great White North with these Golden Agers from Canada. We've got hoser heroes like Red Rogue, the original Mr. Monster, Nelvana of the Northern Lights, Tricky Merlin, Mono the Air Cobra, Nitro, Terry Kane, Black Wing, Cosmo, Ace Barton, The Crusaders, Capt. Wonder, plus Danny and his Magic Ring. Brush up on your curling as these Canadian superheroes save the day, eh?!... [click here for more] | Mini-Komix | $0.99 |
| Daring Dames salutes these Swinging Sisters from the Golden Age of comics! Rulah the Jungle Goddess battle a phony prophet and a knave knight. Dagar the Desert Hawk unites with desert amazons. Zegra fights flying carpet fiends. Jo-Jo the Congo King saves his mate Tanee from a mad witch doctor. A full comic adaptation of One Million Years BC. Plus, learn the true origin of Sheena! Grab onto these jungle... [click here for more] | Mini-Komix | $0.99 $0.66 |
| Dive into hyperspace as Golden Age cracks some of the most spectacular Space Cases ever! Stellar adventures with The Red Comet, Shock Gibson, Jet-Ace Logan, Space Pilot, Captain Valiant, Major Ruass, Speedsmith, and Princess Maza. Engage the warp core for parts unknown with classic comic thrills!... [click here for more] | Mini-Komix | $0.99 $0.66 |
| Golden Agers sets off for the stars in this strange collection of space tales. In the spirit of Warlord Of Mars we see Myles Cabot transmitted to our sister planet to fight giant insects and woo a sexy princess in An Earth Man On Venus, space brigadier Lewis Garner is The Man Who Relighted The Stars, learn why protection against alien vixens is important in Encounter, visit The Sixth Moon Of Saturn,... [click here for more] | Mini-Komix | $0.99 $0.66 |
| Legendary comic artist L.B. Cole created the "original" funny animal character of Mertie Mouse! A resident of Toytown, Mertie is on his way to a date, when he finds out the town is being invaded by potato bugs. He teams up with the bat-themed superhero, Bertie Bat, then becomes mayor, and confronts the sinister Storm King. A full color comic book Golden Age adventure!... [click here for more] | Mini-Komix | $0.79 $0.63 |
| Deadly Dames shows you the Most Wanted women in all of comics! Merciless the Sorceress ensnares some arctic explorers, Neptina-Queen of the Deep plans to take over the surface world, Her Highness and Silk hoodwink people out of their money, the tempting Tigerwoman leads men to their doom, Sorceress of Zoom attempts to conquer an Arabian kingdom, Zago the Jungle Prince matches wits with the Red Witch,... [click here for more] | Mini-Komix | $0.99 |
| Jungle Komix comes back in color for a sizzling safari! Rumble with Rulah the Jungle Goddess, Undercover Girl, Sabu the Elephant Boy, Tangi, Camilla, Serpent Woman, Safari Cary, Nomad Queen, Dagar the Desert Hawk, and more! Plenty of swinging stars from the Golden Age of comics! 100 Big Pages!... [click here for more] | Mini-Komix | $0.99 |
| Golden Agers teams up the best good guys of yesterday for Heroes United! The Wizard and The Shield meet up, Bulletman is introduced to Captain Marvel Jr., Fatman clashes with Tin Man, Dollman dates Dollgirl, Pat Parker-War Nurse forms the Girl Commandos, Cat-Man's Kitten and The Deacon's Mickey form the Little Leaders. Alliances are formed decades before the Justice League or Avengers!... [click here for more] | Mini-Komix | $0.99 $0.66 |
| Sexy superheroines charge into action as Daring Dames collects three of the curviest costumes crimefighters into one cosmic collection! We've got two tales of the of the mighty magical miracle, Yankee Girl, a super-powered crusader who uses her abilities of flight and super-strength to protect the American Way. We also have the courageous Kitty Kelly, whose distracts deviants with her flashy outfit... [click here for more] | Mini-Komix | $0.99 $0.66 |
| Golden Agers brings you a fairy tale from the Arabian Nights! The youth Aladdin finds a magic lamp that takes him on the adventure of a lifetime with slave girls, sexy princesses, desert amazons, magic and more! Full color fun in this comic book fantasy!... [click here for more] | Mini-Komix | $0.75 $0.50 |