Follow Your Favorites!

Sign in
to get custom notifications of new products!

Featured Product
Kevin Smith's Kato Volume 1: Not My Father's Daughter
by Dynamite Entertainment
From the pages of Kevin Smith's Green Hornet comes this thrilling lead-in story, starring Mulan Kato, daughter of the Green Hornet's faithful companion, Kato!
Learn the secrets of Kato, his daughter, his wife's murder and the mysterious Black Hornet, in a series that serves as a prequel to Kevin Smith's Green Hornet.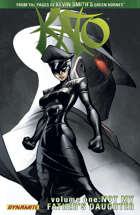 | Products found in this section... | Sort by: |
| --- | --- |
| Title | Publisher | Price |
| --- | --- | --- |
| The Bodacious Black Raider is a masked vigilante from the Golden Age of comics. At the end of WWII, army soldier Gordon Summers takes up a secret identity to fight off vile villains like The Crime Merchant and The Master Of Birds. Along with his commando buddy Red Crandall, both of them become the Black Raiders to crack down on criminals. All three stories collected in a single volume for the first... [click here for more] | Mini-Komix | $0.75 $0.50 |
| The young warrior known as Visiting Flare wanders Vaneha in search of the answers to the jumbled broken puzzle that is his past. In times of stress he catches fleeting glimpses of a time when his power reshaped history, but he does not know whether those visions are real or what they mean. When the truth is revealed to him, his past and present will collide and legends will come alive once more. This... [click here for more] | Onyx Path Publishing | $2.99 |
| Kayfabe is back with a second anthology filled with pro wrestling comic goodness. Some of the same "competitors" have returned for this volume, but we also have plenty of "rookie superstars" that have stepped up to the challenge. ... [click here for more] | Kayfabe Anthology | $6.00 |
| An action/monster horror series about a band of supernatural coffee shop patrons who team up to secretly protect the owner from other supernatural threats. ... [click here for more] | Andres Labrada | Pay What You Want |
| From the pages of White Wolf's hit RPG comes a new fantasy comic that will shake Creation to its knees. Udon Comics is proud to present a series that will appeal to the thousands of existing Exalted fans as well as brand new readers with no prior knowledge of the RPG line. A young boy named Kidale is anointed with the power of a reincarnated Solar Exalted and becomes the catalyst for conflict and... [click here for more] | UDON | $9.99 |
| Follow the artistic development of the Exalted roleplaying game all the way from its unused concept art to its current second edition splendor. Along the way, you'll see the world of Exalted brought to life through the talents of the industry's top artists, including Chris Stevens, Hyung-Tae Kim, Adam Warren and many, many more. Within, lavish, full-color art combines with commentary... [click here for more] | White Wolf | $13.73 |
| Lash Lightning Vs. Were-Wolf is the superhero showdown of the early 20th Century! Robert Morgan is given the powers of electricity by an Egyptian wizard and fights crime as the super-strong Lash Lightning. Acting as his opposite, Adolph Krimetz learns the power to turn into a genuine lycanthrope as the vicious Were-Wolf goes on a killing spree. The living lightning bolt battles the sinful skinwalker... [click here for more] | Mini-Komix | $0.99 $0.79 |
| From the pages of DunJon Fantasy Femme Fatale eZine, a collection of many of the publsher's favorite images of Amazons in their native habitat. (Scantly clad women with weapons, many wearing chainmail or leather bikinis). This fantasy packed eZine, features dozens of print/poster worthy images, all images feature beautiful woman,  some fighting monsters, dragons, griffins and other assorted creatures. ... [click here for more] | Stainless Steel Dragon | $3.99 $1.99 |
| It's my first graphic novel from way back in 2006! Now available as an e-book for the first time! Do rough-and-tough special-ops leader Hawk and his team of bikini-clad commandos have what it takes to save the world from nuclear annihilation, save the family drive-in from loan sharks, save Vietnam from ninjas, all without messing up their hair? The Bikini Commando Squad skewers 30 years of action... [click here for more] | Amazing Art Bros. | $1.99 |
| Great Choice Comics is a special selection of superhero adventures from the 1940s. Great Comics Publications was a small publisher with only 2 titles, Great Comics and Choice Comics. Each of these featured an eccentric array of avengers like The Great Zarro, Moe M. Down, Snarzan The Ape, Buck Johnson, The Secret Circle, Fire-Eater, Zomba, Soup-Or-Man, Atlas The Mighty, and Foreclose Holmes. Comedy,... [click here for more] | Mini-Komix | $3.00 $0.99 |
| Immortal vampires and humans live side by side peacefully in engineered mega-city, Asylum. Until, impossibly, someone starts murdering vampires. Assigned to the case, Harper Halloway unearths a deeper truth: humanity's future has been edited. A NINJA VAMPIRE TALE. The year is 3333. Earth is in a state of recovery. Vampires are real, and though far less populous, they thrive alongside humans in the... [click here for more] | Vault Comics | $19.99 $2.00 |
| High Flying Heroes is a collection of public domain comics from the Golden and Silver Age. Into the wild blue yonder with The Flying Fool, Miracle Man, Wings Turner, and the Solar Legion. Up, up and away in 100 Big Pages of soaring superheroes!... [click here for more] | Mini-Komix | $3.00 $0.99 |
| Fawcett Publications produced some of the greatest Golden Age superheroes, so get a refresher course with the Fawcett Freedom Fighters! Starring the original Captain Marvel, Captain Marvel Jr., Mary Marvel, Spy Smasher, Ibis the Invincible, Mr. Scarlet, Pinky, Golden Arrow, Phantom Eagle, Nyoka the Jungle Girl, Captain Midnight, Bulletman, Bulletgirl, and Bulletdogl! Say "Shazam" and summon the Secret... [click here for more] | Mini-Komix | $0.99 |
| Shazam Family Giant wants you to "Make Mine Mary Marvel"! Billy Batson's twin sister Mary is revealed to be the Shazam Girl, Mary Marvel! With the powers of six goddesses, Mary joins Captain Marvel and Captain Marvel Jr. as the World's Mightiest Girl! She battles Mr. Power, wicked witches, crafty cavemen, runaway holidays, time travellers, attacking aliens, cunning crooks, and the sinister Sivanas!... [click here for more] | Mini-Komix | $0.99 |
| Sydney Brown relives his years fighting alongside Count Dante, the cape-wearing, car-selling, controversial karate master from the 1970s. But while the reporter interviewing him is excited to hear the salacious details of a crazy life, it is clear the time was bittersweet for Brown. ... [click here for more] | Scout Comics and Entertainment | $3.99 |
| The Cunning Commander Steel was Canada's own super-soldier. While on tour in Egypt during WWII, Jack Steel is given the special Elixir of Power that endows him with him super strength and enhanced speed. Sometimes called The Man of Might, Steel now uses his powers as an agent of the International Police Service fighting either Nazis, or post-war fascists and gangsters. A full color superhero comic... [click here for more] | Mini-Komix | $0.99 $0.75 |
| Sci-Fi/Fantasy Fanzine Art is a collection of illustrations from various Bronze Age publications. This includes barbarians, dinosaurs, aliens, robots, knights, monsters, astronauts, vikings, zombies, princesses, sorcerers, dragons, jungle girls, soldiers, and superheroes. 100 Big Pages!... [click here for more] | Mini-Komix | $0.99 $0.74 |
| The very first Captain Atom premiered in the Golden Age, over a decade before the Charlton Comics character. Written by Jack Bellew and drawn by Arthur Mather, this was the original Australian Atom Man! Dr. Rador grew up on the island of Atol, and given bizarre atomic superpowers. He escapes with the bikini-clad Princess Lais to the mainland where he battles the evil forces of Wrecker and his partner... [click here for more] | Mini-Komix | $2.00 $0.75 |
| Perhaps the World's finest fantasy art and cosplay magazine. Dozens of printable poster/print quality images, plus random riddles, magic items. dungeon annd city maps. Plus a Unique ancient artifact suitable for most role playing game systems. DunJon Fantasy Femme Fatale eZine as it names suggests is fantasy art magazine that primarily focuses upon femme fatales. (Beautiful, yet dangerous women.)... [click here for more] | Stainless Steel Dragon | $3.99 $1.99 |
| When a woman becomes the galaxy's first human wrestling champion she becomes the target for all the best, and the worst, wrestlers who think a human isn't good enough to hold the belt. Meet Charlene Rocket. Is she in over her head? Or can this woman from Earth take on the toughest, meanest wrestlers in the universe for the title! ... [click here for more] | Amazon Comics Group | $2.99 |
| Thrilling Throwback Comics is an all out album of adventures from the Golden and Silver Age. Action heroes like TNT Todd, Public Defender, Wild Boy, Doc Holliday, Kitty Kelly, Skipper Ham Shanks, Dudley Dance, Explorer Joe, and The Crusaders. 100 Big Pages of genre-crossing cliffhangers! Included are capers like: *Terror Of The Snows *Late Tour *The Big Wheel Of Bleeker Street *Signal 32 *They... [click here for more] | Mini-Komix | $3.00 $0.99 |
| The Shazam Family Giant presents the Mightiest Mortal, the ORIGINAL Captain Marvel! Billy Batson is a boy reporter given the powers of six gods, allowing him to transform into the World's Mightiest Mortal! Captain Marvel saves the day from rampaging dinosaurs, alien invaders, mischievous magic, crooked criminals, and the devious Dr. Sivana! 100 Big Pages!... [click here for more] | Mini-Komix | $0.99 |
| The Prestigious Presto Kid was a masked magician in the Old West! Jeff Grant was a blacksmith who learned from a travelling chemist that also dabbled in stage magic. Taking what he knew, Jeff used his tricks instead of guns to bring rustlers, robbers, and roughhousers to justice as The Presto Kid! Sleight of hand, great escapes, and cliffhanger thrills in this wild western superhero comic! The entire... [click here for more] | Mini-Komix | $0.75 $0.59 |
| Aces & Angels has some of the best Golden Age heroes in the history of comics! Starring Captain Midnight, Nyoka the Jungle Girl, Star Pirate, Val Storm, Captain Comet: Space Ranger, Kitty Carson, Mysta of the Moon, Kaanga, Gara the Jungle Man, and Captain Terry Thunder! 100 Big Pages of space sagas, wild west, jungle action, air raiders, undersea terrors, and mystery men!... [click here for more] | Mini-Komix | $3.00 $0.99 |
| Super Soldier Stories is a collection of classic comics starring patriotic protectors. Golden Age superheroes who fight for American freedom. Starring V-Man, V-Boys, Minute Man, Miss America, Flag Man, Rusty, Super-American, Pat Patriot, Man Of War, Spy Smasher, Miss Victory, The Eagle and Buddy the Daredevil Boy! They fight Nazis, supervillains, masterminds, spies, robots, and more! 88 pages of exciting... [click here for more] | Mini-Komix | $3.00 $0.99 |
| The time before our time was not a time of senseless natural struggle and reptilian rage, but a time of myth and sorcery. It was a time of legend, when heroes walked Creation and wielded the very power of the gods. It was a time before the world was bent, a time before the magic of Creation lessened, a time before the souls of men became the stunted, withered things they are today. The Making of... [click here for more] | White Wolf | $1.99 |
| The ORIGINAL Captain Marvel in this Golden Age reprint of his official coloring book by Fawcett Publications in 1941! Billy Batson transforms into the World's Mightiest Mortal to save the Princess Beautia, stop the devious Dr. Sivana, mash monsters, get gangsters, and play pro football!... [click here for more] | Mini-Komix | $0.75 $0.50 |
| The Radical Red Demon collects the entire adventures of the original dark defender of comics! This Golden Age superhero is in reality Judge Straight, but when criminals slip through the cracks of justice he dons the daredevil disguise of Red Demon. All four chapters of Harvey Comics' masked man, and for the first time in color!... [click here for more] | Mini-Komix | $2.00 $0.75 |
| Shazam Family Giant has a big reunion in All Together Now! The ORIGINAL Captain Marvel, Mary Marvel, and Captain Marvel Jr. team up in five fabulous fables! The Marvel Family travel through time, help the homeless, attack the Hissing Men, and battle the Sivana Family! 100 Big Pages of the very first superhero family!... [click here for more] | Mini-Komix | $0.99 |
| Charlene Rocket has formed an unlikely alliance with Azatala Zatara, the warrior princess of an interstellar empire. But not everyone wants to be her friend. Lurking in the dark hallways of the Galactic Wrestling League are many challengers for planet Earth's first champion. The deadly Daedarya has brought some allies of her own. And the ring is about to explode in this third chapter of Galaxy Wrestling... [click here for more] | Amazon Comics Group | $2.99 |
| Griot Enterprises returns to the format that put the company on the map with four stories from the company's past, present and future.  With this one-shot, we're going back to the beginning while moving forward. We've got The Song of Lionogo: An Indian Ocean Mythological Remix, a fantasy tale that was created for the Smithsonian National Museum of African Art.... [click here for more] | Griot Enterprises | $9.99 $4.99 |
| Shazam Family Giant serves up a huge slice of Big Red Cheese! The original Captain Marvel flies into six solo stories, and a trio of tales guest starring Captain Marvel Jr. plus Mary Marvel! The World's Mightiest Mortal vexes the Volcano Men, grabs gremlins, meets an immortal, finds a genius, punches pirates, gains the Midas touch, seeks the Miracle Stone, and duels the evil Dr. Sivanna. 100 Big Pages... [click here for more] | Mini-Komix | $0.99 |
| Action Galore is an international ensemble of thrilling Golden Age comics. There's the Nazi-punching spy Freelance, feisty female reporter Kath King, reckless Orphan of the Storm, courageous Captain Cutlass, the historic Pony Express, and the stunning Starlight. 100 Big Pages of rip-roaring adventures!... [click here for more] | Mini-Komix | $3.00 $0.99 |
| Guardians of the Golden Age proves that there truly is Justice For All! Heroes from all over the globe like Target and the Targeteers, Hercules, Black Cat, Manhunter, Ace Hart, Miss Masque, Captain 3-D, Doll Man, Streamline, Vampire, and Crimson Comet! 100 Big Pages of truth and justice!... [click here for more] | Mini-Komix | $3.00 $0.99 |
| Tearing out of the pages of Garth Ennis' Jennifer Blood comes The Ninjettes -- a searing four-color indictment of a society that turns blushing college girls into ninjas hungry to kill! Kelly, Skyler and Chelsea -- once-wholesome Americans caught in a nightmare of sin, scandal and shurikens! What made them the way they are -- twisted, violent, depraved? That's the question that will explode across... [click here for more] | Dynamite Entertainment | $12.99 |
| Shazam Family Giant thunders through the Junior Journals! When Freddy Freeman says "Captain Marvel", he transforms into the World's Mightiest Boy. Now as Captain Marvel Jr., he goes into business with the rest of the Marvel Family. He also flies solo when he smashes sea monsters, fights freaks, catches clowns, punches pirates, duels a demon, attacks the Arabian Knights, and spites Sivana Jr. 100 Big... [click here for more] | Mini-Komix | $0.99 |
| Daring Dames heads up, up, and away with heroines unseen since the Golden Age of Comics! This league of super-heroines bands together from the cosmic reaches of the universe to save the day. Stand back for Pat Parker: War Nurse and her Girl Commandos, Yankee Girl, Miss Masque, The Veiled Avenger, The Woman In Red, Bulletgirl, Sally O'Neil: Policewoman, and Miss Fury. Truth and justice are under no... [click here for more] | Mini-Komix | $0.99 |
| The Three Cheers are the original heroic trio of comics! Hailing from the Golden Age, three friends: Sis, Boom, and Bart were former stage performers that join the Allied Forces at the dawn of World War II. They get framed by Nazis which has them discharged, so now they go by the handle "The Three Cheers" as secret vigilantes to stop the Axis Powers. The complete comics run, and in full color!... [click here for more] | Mini-Komix | $2.00 $0.75 |
| From the pages of Kevin Smith's Green Hornet comes this thrilling lead-in story, starring Mulan Kato, daughter of the Green Hornet's faithful companion, Kato! Learn the secrets of Kato, his daughter, his wife's murder and the mysterious Black Hornet, in a series that serves as a prequel to Kevin Smith's Green Hornet. Collects issues #1-5, along with a complete cover gallery. Intended for readers... [click here for more] | Dynamite Entertainment | $7.99 |
| Perhaps the World's finest fantasy art and cosplay magazine. Dozens of printable poster/print quality images, plus random riddles, magic items. dungeon annd city maps. Plus a Unique ancient artifact suitable for most role playing game systems. DunJon Fantasy Femme Fatale eZine as it names suggests is fantasy art magazine that primarily focuses upon femme fatales. (Beautiful, yet dangerous women.)... [click here for more] | Stainless Steel Dragon | $3.99 $1.99 |
| Fantastic Fanzine Gallery collects original material from fanzines by comic book artists. This includes aliens, valkyries, demons, barbarians, elves, vampires, amazons, monsters, pirates, unicorns, goddesses, jungle girls, samurai, astronauts, ghosts, dragons, werewolves, fairies, cowboys, goblins, superheroes, knights, ogres, dinosaurs, space princesses, witches, and zombies! 100 Big Pages!... [click here for more] | Mini-Komix | $1.99 $0.99 |
| Adventure ahoy! Thrill to the most action-filled comics from the Golden Age! Starring: Jungle Queen Camilla, Bulletgirl, Miss Victory, Ann the Amazon, Jane Martin, Polka-Dot Pirate, Nelvana, and Judy of the Jungle! Action, thrills, fantasy, sci-fi and more await in this amazing collection! 100 Big Pages!... [click here for more] | Mini-Komix | $0.99 |
| Perhaps the World's finest fantasy art and cosplay magazine. Dozens of printable poster/print quality images, plus random riddles, magic items. dungeon annd city maps. Plus a Unique ancient artifact suitable for most role playing game systems. DunJon Fantasy Femme Fatale eZine as it names suggests is fantasy art magazine that primarily focuses upon femme fatales. (Beautiful, yet dangerous women.)... [click here for more] | Stainless Steel Dragon | $3.99 $1.99 |
| Proto-Heroes are tales of early comic book adventurers. 100 Big Pages of classic comic capers! Golden Age action stars like: *Jesse James *Cosmo *Stryke Saunders *Johnny Galaxia *Camilla *Sheriff Gilbert Norton *Radio Patrol *Sheena-Queen of the Jungle *Utah Kid *Billy Brig *Captain Zip Morgan *Nyoka the Jungle Girl *Golden Eagle... [click here for more] | Mini-Komix | $3.00 $0.99 |
| Adventures Of Catman brings back the Australian caped crusader. Catman with his sidekick Kit await the call for trouble from their mountain stronghold. When danger strikes the feline crimefighters take on a rogue general, jewel thieves, and voodoo! Jungle thrills and amazing action in this Silver Age superhero spectacle! ... [click here for more] | Mini-Komix | $1.49 $0.75 |
| Rootin Tootin Comic Book Heroes slaps leather with the quickest draws there are from the Golden Age! 100 Big Pages of adventurers, superheroes, cowboys, and crime fighters! Starring cunning characters like: *Fighting Bob Dale *Jet Starr *Lariat Lucy *The Avenger *Golden Lad *Crime Smasher *Bob Allen: Frontier Marshal *The Sub-Zero Man *Target and The Targeteers... [click here for more] | Mini-Komix | $3.00 $0.99 |
| Bodacious brunettes with bangs abound in this curvy collection! Some of the most ravishing raven-haired heroines from the Golden Age of Comics get their dues. We have the awesome attorney Betty Bates, the slinky spy Seniorita Rio, the heavenly harem girl Halla, the jungle goddess Rulah, the voluptuous Valkyrie, the sexbot Syntac, the pretty Petite, feature writer Penny Wright, the leggy Long Sam, the... [click here for more] | Mini-Komix | $0.99 |
| The Bold Black Spider is the original arachnid avenger of comics! From the Golden Age pages of Ace Periodicals, Ralph Nelson is a District Attorney who leads a double life as the masked manhunter, Black Spider. The wanted vigilante uses his ability to control spiders to combat crime and capture the corrupt. 80 pages, and in color!... [click here for more] | Mini-Komix | $2.99 $0.99 |
| Twelve years before the Charlton Comics character debuted, the very first Captain Atom premiered in 1948! Writer Jack Bellew and artist Arthur Mather created the original Australian Atoman! With a fan club reaching into the millions, Captain Atom was the biggest Golden Age superhero from the land down under. Twin brothers are caught up in an atomic explosion, fusing them into the Atomic Man, a costumed... [click here for more] | Mini-Komix | $2.00 $0.75 |
| Shazam Family Giant reveals Marvels and Miracles! The original Captain Marvel soars in a cosmic collection of his Golden Age adventures! Learn the secret origin of the World's Mightiest Mortal, plus he meets Mr. Tawny, hits haunted armor, strikes down Dr. Sivanna, wrecks the Island Wrecker, goes after a gorilla, halts the Human Hawks, and takes a trip to the moon! 100 Big Pages!... [click here for more] | Mini-Komix | $0.99 |