Follow Your Favorites!

Sign in
to get custom notifications of new products!

Featured Product
Failsafe
by Vault Comics
When he executed the last nanotech-enhanced super soldier, John Ravane thought that was the end of the haywire Insurgence Program. Ten years later, in the wake of social unrest, its true legacy is revealed.
As sleeper agents scattered throughout the country activate, Ravane must stand between a government he cannot trust and the soldiers he once hunted.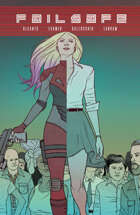 | Products found in this section... | Sort by: |
| --- | --- |
| Title | Publisher | Price |
| --- | --- | --- |
| The Bodacious Black Raider is a masked vigilante from the Golden Age of comics. At the end of WWII, army soldier Gordon Summers takes up a secret identity to fight off vile villains like The Crime Merchant and The Master Of Birds. Along with his commando buddy Red Crandall, both of them become the Black Raiders to crack down on criminals. All three stories collected in a single volume for the first... [click here for more] | Mini-Komix | $0.75 $0.50 |
| In this third absolute collection of the bestselling original series WITCHBLADE, NYC Detective Sara Pezzini is back from her foray into the Underworld. As she emerges with FULL power over the Witchblade and makes her final attempt to banish the creatures back to the underworld from whence they came, she is also given a clue as to the true nature of the Witchblade. Collects WITCHBLADE #37-57, DESTINY'S... [click here for more] | Top Cow | $49.99 $34.99 |
| This is a 13 page FREE PREVIEW of American Alchemist#1 an anthology series featuring the saga of Erika America, her Meso-American mythology and the Cthulhu mythos. Joined by a pantheon of legendary artists from around the globe! This comic is in full color. We bring you a Fantasy magazine in the vein of Heavy Metal with artists from Asia, the Americas, and Europe. A Global Effort!  Amercian... [click here for more] | Carnal Comics | Pay What You Want |
| Wow, It's Mary Marvel! The original magical girl of comics says "Shazam" to become the world's mightiest girl. Captain Marvel's twin sister flies into adventure as she takes on fake ghosts, bird people, greedy goons, sneaky spies, and the cunning Mr. Question. All this and a team-up with fellow teen superhero sidekick Pinky, all in glorious color from the pages of Wow Comics in the Golden Age!... [click here for more] | Mini-Komix | $3.00 $0.99 |
| Capt. Marvel Jr.: Dear Diary sneaks a peek into the secret life of the World's Mightiest Boy! Freddy Freeman is secretly part of the Shazam Family as Captain Marvel Junior, and when he's not out saving the day, he is recalling his heroic events in his diary. These tales include mad scientists, ancient gods, sinister supervillains, and making his own movie. 84 pages in glorious color from the Golden... [click here for more] | Mini-Komix | $3.00 $0.99 |
| The World's Mightiest Girl is Captain Marvel's twin sister, Mary Marvel! The Shazam Girl teams up with her brother on two separate cases, plus running into creatures from Venus, battling plant monsters, meeting Davy Jones, busting a ghost, and nabbing Nazi spies! Golden Age comics tales from the pages of Fawcett's Captain Marvel Adventures and Wow Comics. The very first magical girl of comics acts... [click here for more] | Mini-Komix | $2.00 $0.99 |
| Kayfabe is back with a second anthology filled with pro wrestling comic goodness. Some of the same "competitors" have returned for this volume, but we also have plenty of "rookie superstars" that have stepped up to the challenge. ... [click here for more] | Kayfabe Anthology | $6.00 |
| Blue Beetle's Girlfriend, Joan Mason is a collection solo adventures of a star reporter for several newspapers during the height of the Golden Age. When the good girl isn't investigating the latest crime, she is dating policeman Dan Garret, the original Blue Beetle. Everything from murders, mysteries, scandals, fiascos, ghosts, and masked menaces get drawn into the troublemaking reporter's capers.... [click here for more] | Mini-Komix | $2.99 $0.99 |
| Fantastic Flashback Comics is an adventure-filled anthology with stories from the Golden and Silver Age. Starring heroes suck as Sheena: Queen Of The Jungle, Phantom Circle, The Three Rocketeers, Lash Larue, The Red Blazer, Public Defender, and The Honorable Freddy. Included are thrilling tales of The Flying Saucers, Monster Of The Deep, What's The Answer, and The Accused. 100 Big Pages. ... [click here for more] | Mini-Komix | $3.00 $0.99 |
| Capt. Marvel Jr.: Sivana Sagas is 8 exciting tales of the World's Mightiest Boy vs. the sinister scientist. Our hero uses his superpowers has to stop the evil Dr. Sivana who uses his infernal devices to take over the world. Whether its travelling through time or switching bodies with the original Shazam, Freddy Freeman transforms into Captain Marvel Junior so he can save the day from mad science.... [click here for more] | Mini-Komix | $3.00 $0.99 |
| Capt. Marvel Jr.: Hail To The King starring the superhero that inspired Elvis Presley! Freddy Freeman is one of the Shazam Family as the World's Mightiest Boy. Captain Marvel Junior tangles with trolls, stops spoil-sports, wrestles with the world's mighiest whale, struggle with a swamp monster, helps out the Weather Man, going back to the days of Robin Hood, and meets himself from the future. 80 pages... [click here for more] | Mini-Komix | $3.00 $0.99 |
| GO BACK TO THE BEGINNING! To coincide with the groundbreaking 30th anniversary of Top Cow and Image Comics, Top Cow proudly presents the original stories that launched CYBERFORCE, including the very first story, "Tin Men of War." Through the brilliant art of MARC SILVESTRI, new and old fans alike can revisit the introduction of classic characters like Velocity, Ripclaw, Heatwave, Cyblade, Stryker,... [click here for more] | Top Cow | $29.99 $23.99 |
| Capt. Marvel Jr.: And Now The News starring the World's Mightiest Boy! Freddy Freeman is a newspaper boy who is either delivering or making the headlines as Captain Marvel Junior. The teenage superhero has to save the day from aliens, monsters, crooks, mobsters, and killer clowns. 88 pages of Golden Age fun, and in color! ... [click here for more] | Mini-Komix | $3.00 $0.99 |
| Capt. Marvel Jr.: Local Boy Makes Good takes the Golden Age superhero in adventures around his hometown. The World's Mightiest Boy saves his home from racketeers, rustlers, cheaters, witches, wacky inventions, jinxes, genies, gangsters, and grotesque beasts! Your friendly neighborhood Shazam Family member uses his powers to save the citizens of the big city. 80 pages long, and in color!... [click here for more] | Mini-Komix | $3.00 $0.99 |
| Great White Wonders are Canadian superheroes from the Golden Age of comics! Canuck crusaders like Thunderfist, Nitro, and The Brain. Super-powered protectors from the Great White North! 100 Big Pages!... [click here for more] | Mini-Komix | $3.00 $0.99 |
| This is the first installment of the series of graphic novels based on the daily comic strip, Evil Inc. This is not simply a collection of comic strips. Rather, I take the individual panels of the strips and lay out a continuous graphic novel. Since I do a storyline-driven comic, it reads smoothly from cover to cover, and since it's based on a daily humor strip, reading it in one volume... [click here for more] | Evil Inc comics | $4.99 |
| A brand new 36-page Skullkickers comic story brought to you by Jim Zub (Dungeons & Dragons, Conan the Barbarian, Avengers) and Edwin Huang (Street Fighter, Darkstalkers)! A brand new 170-page 5e roleplaying game adventure and campaign sourcebook for characters levels 1-10 brought to you by Jim Zub, Mike Olson... [click here for more] | Swords & Sassery | $14.99 $9.99 |
| EVEN THOUGH THIS IS FREE, WE DO ENCOURAGE YOU TO ADD SOME AMOUNT TO HELP FUND FUTURE PROJECTS! Funnies From The Forties is a classic collection of comic strips in color. This includes: Dreamy Daisy Freek And Meek Gold Dust Or Bust Haff Nelson Junior Wizard Knight And Daye Life In The... [click here for more] | Mini-Komix | Pay What You Want |
| Terrific Team-Ups are comic book crossovers from the Golden and Silver Age. Minute Man forms the Crime Crusaders Club with Bulletman, Bulletgirl, and Captain Marvel Junior. Mr. Scarlet and Pinky run into Bulletman and Captain Marvel. Flint Baker and Reef Ryan are now partners as the Space Rangers. Phantom Eagle unites with Commando Yank to bring down the Iron Gate. Captain Atom is paired with Nightshade... [click here for more] | Mini-Komix | $3.00 $0.99 |
| In our world, there are teams of Crystal Hunters, agents of the mysterious organization Syn. We call them… player characters. They seek to collect the ancient Crystals, which give incredible, inexplicable powers! Only if they roll well on their Crystal Channeling skill. But in order to harness these powers, a person must sacrifice something dear indeed: their own heart. Also,... [click here for more] | Up to Four Players | Pay What You Want |
| Canadian Comic Book Heroes are Golden Age adventures from the Great White North. Daring defenders of Canada are lost heroes from the era of World War II. These Canuck crusaders include Drummy Young, Clip Curtis, Nitro, Active Jim, Flying Fool, Speed Savage and Crash Carson. 100 Big Pages long. ... [click here for more] | Mini-Komix | $0.99 |
| JUSTICE GOES HEAD-TO-HEAD!  Judge Death has crossed dimensions to Gotham City and Judge Dredd is in pursuit! However, this is the home turf of a certain caped vigilante – the Batman. Two very different brands of uncompromising justice are destined to clash! Stories include: BATMAN/JUDGE DREDD: JUDGEMENT ON GOTHAM BATMAN/JUDGE DREDD: VENDETTA IN GOTHAM This digital edition... [click here for more] | Rebellion | $6.99 |
| When firefighter Bill Goddard raced into a blazing building to rescue trapped children, he expected to die. Instead he became something more than human – the nation's first ascendant. Now known as American Eagle, Bill must assemble a team of other ascended heroes to defend the country from villainous forces intent on wreaking chaos and destruction. But the process of ascension is fraught with peril,... [click here for more] | Autarch | $10.00 |
| Celebrating the 25th anniversary of Image Comics and the 20th anniversary of The Darkness, this special volume collects: The Darkness Origins (Issues One through Six and Preview) The Darkness/Batman The Darkness/Superman This is a digital version of the one-time printing in honor of the anniversaries, so don't miss out! Intended for readers 17+ ... [click here for more] | Top Cow | $19.99 $14.99 |
| Delecta Of The Planets is a galactic good girl comic from C.C. Beck, the creator of Shazam! The newly crowned Queen of the Kalpan System befriends visiting Earthlings, who help defend her throne from greedy usurpers. A family-friendly sprawling space opera from the Golden Age, and in color!... [click here for more] | Mini-Komix | $0.99 |
| Octobriana is The First Russian Superheroine! Originally introduced as a European fanzine character, the time-traveler was brought into the world of Russian underground comics as a radioactive immortal with super strength that battles invading hordes, giant monsters, and the forces of oppression! This Silver Age siren is living proof that you don't come between an amazon and her cola!... [click here for more] | Mini-Komix | $0.99 |
| Amateur Heroes are original characters from comic book fanzine of the Silver and Bronze Age. Creative crusaders like The Eagle, Astral Man, Buckskin Brown, Lance Lightning, The Defender, Kansas Kid, Amra, and The Fog. 100 Big Pages of superheroes, gunslingers, barbarians, spacemen, monsters, mobsters, murder, and masked mayhem!... [click here for more] | Mini-Komix | $3.00 $0.99 |
| Lucky Dale, Girl Detective is a police detective from the late 1940s. This buxom blonde cracks down on crime as an escapist and fearsome fighter. Good girl cliffhanger adventures from the Golden Age of Comics, and in color!... [click here for more] | Mini-Komix | $3.00 $0.99 |
|  Commander X returns in this retro-romp through super-hero comics by the Da Vinci of Golden Age redesign, our own Jay Piscopo (Artist/Creator of Commander X, Thorus, Sea Ghost and much more!) Starring Commander X, Circe The Sorceress of the Sea, Sea Raider and the Human Sun! ... [click here for more] | Public Domain Comics | $5.99 $2.99 |
| All-Old, All-Original Superheroes are fresh ama-heroes from Silver and Bronze Age fanzines! Men of mystery comics featuring striking characters like The Liberty Legion, Hyperman, The Eye, Goodguy, Mister Blister, Quad-Man, Great Scott, Powerman, and The Guardian Council. 100 Big Pages of independent crusaders!... [click here for more] | Mini-Komix | $0.99 $0.74 |
| Two mercenaries are entangled in a high-class assassination plot, and nothing - werewolves, skeletons or black magic - will stop them from getting paid. If you love fantasy, action-comedy or a touch of black-hearted violence, then SKULLCKICKERS is the comic book for you! This volume collects Skullkickers #1-5 and short stories from Popgun Volumes 2 & 3 and includes an Introduction... [click here for more] | Swords & Sassery | $14.99 $7.99 |
| Unearthly Spectaculars is a slick selection of strange sci-fi stories from the Silver Age! 68 pages of science-fiction 1960s comics, and in color! There is bizarre fantasy like: *The Visitor *Tiger Boy *The Hidden World *Clawfang *Logan's Next Life *Old Wives Tale *3 Rocketeers *Earthman *The Saucerer *Unbelievable Story... [click here for more] | Mini-Komix | $2.00 $0.99 |
| This first collection of the bestselling series created by MARC SILVESTRI, DAVID WOHL, BRIAN HABERLIN, and MICHAEL TURNER equips streetwise cop Sara Pezzini with the mysterious Witchblade, a weapon of prehistoric origin and untold power. As the artifact's bearer, Sara goes toe to toe with a Machiavellian industrialist, supernatural serial killers, and far worse, as the supernatural underworld of... [click here for more] | Top Cow | $23.99 $19.99 |
| On 29th August 1981, the Daily Star newspaper ran the first ever Saturday Judge Dredd comic strip. It was an instant hit amongst the five million Daily Starreaders, and was a critical success as well, winning Comics Adventure Strip Cartoon of the Year from the Cartoonists' Club of Great Britain. All of these glorious Saturday stories are collected here, along with the first two... [click here for more] | Rebellion | $12.99 |
| Strange Character Comics are bizarre sci-fi stories from the Golden, Silver, and Bronze Age. 100 Big Pages of time travel, aliens, monsters, robots and space babes! Esoteric tales like: *To Live In Alloy Continuity *The Creature From The Bolinas Lagoon *Spaceship Comix *Unknown Rescuer *Introducing God *Snatcher *Old Pirates Never Die *Sasquatch *Bride Of The Swamp *The Dead Planet *Attack... [click here for more] | Mini-Komix | $2.00 $0.99 |
| Bunny Love bounces to life with comics and artwork featuring vintage burlesk babes! Classic comics like Spotlight On Sally, Cuties, Film Fannie, Katy Of The Chorus, and Glamour Girls, as well as a treasure trove of other "strips"! Showgirls, go-go dancers, milky models, and more shining stars of nightclubs. This cocktail lounge is large and lively!... [click here for more] | Mini-Komix | $0.99 |
| In this issue: Live Auction The team gets a tip about Section 12 items being auctioned off in a Storage Locker Auction in California. When they get there they find themselves on the reality TV show "Dead Storage". Section 12 (Declassified): In 1994, the top secret US government project Section 12 represented the pinnacle of human science and engineering.... [click here for more] | Lenovations Press | $4.99 $1.99 |
| From the creative minds of Dominic Deegan: Oracle for Hire, and Finder's Keepers comes an all new two-fisted, super-powered, raygun adventure. In the far future, on a distant space station, a young astronomer is chosen to weild The Star Power. Now, as the last of the Star Powered Sentinels, she must protect and explore a galaxy more dangerous and woundrous than she could have ever... [click here for more] | GT Comics | $2.99 $0.99 |
| Lash Lightning Vs. Were-Wolf is the superhero showdown of the early 20th Century! Robert Morgan is given the powers of electricity by an Egyptian wizard and fights crime as the super-strong Lash Lightning. Acting as his opposite, Adolph Krimetz learns the power to turn into a genuine lycanthrope as the vicious Were-Wolf goes on a killing spree. The living lightning bolt battles the sinful skinwalker... [click here for more] | Mini-Komix | $0.99 $0.79 |
| Superheroines from the Golden Ages of Comics! Feast your eyes on the feats of Miss Masque, Phantom Lady, Mysta Of The Moon, Spider Queen, Camilla, Yankee Girl, Fantomah, Pat Patriot, Blonde Bomber, Kitty Kelly, Girl Commandos, War Nurse, and Nyoka The Jungle Girl.... [click here for more] | Mini-Komix | $0.99 |
|  Captain Midnight returns in this retro-romp through super-hero comics guest starring the greatest golden age Fawcett comics characters! Featuring an original story by DC comics alum, Brian Augustyn (writer of Gotham by Gaslight and JLA: Year One) and the Da Vinci of Golden Age redesign, our own Jay Piscopo (Artist/Creator of Commander X, Thorus, Sea Ghost and much more!)... [click here for more] | Public Domain Comics | $10.00 |
| Superheroes Great And Small assembles some of the greatest characters of the Golden Age of comics! Super heroic men of mystery like Doll Man, The Flame, Uncle Sam, Black Condor, and The Ray! 100 Big Pages of heroes of all sizes!... [click here for more] | Mini-Komix | $3.00 $0.99 |
| Detective Dames is a spinoff of Daring Dames featuring sexy snoops from the Golden Age of Comics! 100 Big Pages of darling detectives! Gorgeous gumshoes like: *Glory Forbes *Sally the Sleuth *Betty Blake *Jane Martin *Gail Ford-Girl Friday... [click here for more] | Mini-Komix | $3.00 $0.99 |
| From the creative minds of Dominic Deegan: Oracle for Hire, and Finder's Keepers comes an all new two-fisted, super-powered, raygun adventure. Having survived the Void Angel's initial ambush, Danica sets out to learn a bit more about her new found powers with the assistance of Dr. Brightman and the Chief. Meanwhile, fearing the wrath of the Void Archangel, the Void Angel pilots... [click here for more] | GT Comics | $2.99 $1.99 |
| Queens Of The Jungle is a stunning safari of Golden Age congo cuties! A triple feature of stories starring Nyoka the Jungle Girl, Tiger Girl, and the legendary Sheena! These swinging sisters save the savanna from feuding tribes, slavers, stampedes, poachers, pirates, and voodoo! 100 Big Pages!... [click here for more] | Mini-Komix | $0.99 |
| Down Under Wonders is a collection of Australian comic book heroes from the Golden Age! This includes the very first Captain Atom, Jet Fury, Phantom Ranger, Devil Doone, plus Catman & Kit! Awesome adventures from Australia! 100 Big Pages!... [click here for more] | Mini-Komix | $3.00 $0.99 |
| Dashing Dames is a colorful collection of Golden Age glamour girls! Hot heroines from the beginning of comic books! This all-star lineup includes Lady Fairplay, Black Venus, Ghost Woman, Corsair Queen, Tangi, Lila, Iron Lady, Gail Porter: Girl Photographer, Flame, Fear, Futura, and the Battle Women! 88 pages long, and in color!... [click here for more] | Mini-Komix | $3.00 $0.99 |
| Cartoons From Canada are humorous comic strips from the Great White North during the Golden Age. There is Wilbur, Buz and his Bus, Dingwallis, Tugboat Tuby, Clipper the Cat, The Mongoose, Professor Punk, Eggbert, Casey Bones, Wily Wolf, Loopy the Droop, Judge Mint, The Noodle, Homer and his Hound, Kernal Korn, Oolay the Eskimo, Izzy Brite, George and Looey, plus Dizzy Don. 100 Big Pages of classic... [click here for more] | Mini-Komix | $3.00 $0.99 |
| Great Choice Comics is a special selection of superhero adventures from the 1940s. Great Comics Publications was a small publisher with only 2 titles, Great Comics and Choice Comics. Each of these featured an eccentric array of avengers like The Great Zarro, Moe M. Down, Snarzan The Ape, Buck Johnson, The Secret Circle, Fire-Eater, Zomba, Soup-Or-Man, Atlas The Mighty, and Foreclose Holmes. Comedy,... [click here for more] | Mini-Komix | $3.00 $0.99 |
| U.K. Komix brings some of the greatest public domain comics from across the pond! This includes British stars like Ace Hart, Captain Future, TNT Tom, Electro Girl, Cheery Gang, Swift Morgan, Masterman, Splash Page, Thunderbolt Jaxon, and the Scientific Investigation Bureau. 100 Big Pages of Britain's Best!... [click here for more] | Mini-Komix | $3.00 $0.99 |