Follow Your Favorites!

Sign in
to get custom notifications of new products!

Featured Product
Witchblade/Red Sonja
by Dynamite Entertainment
Red Sonja, the She-Devil with a Sword, and Sara Pezzini, the modern day bearer of the Witchblade, must find a way to defeat a wickedly depraved being as old and as dark as the cosmos in order to prevent the world from eternally becoming a true hell on Earth.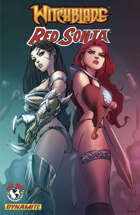 | Products found in this section... | Sort by: |
| --- | --- |
| Title | Publisher | Price |
| --- | --- | --- |
| "The misjudged, the betrayed, the fallen. Rise and avenge your name. Rise and show the Father your true face." Join Dynamite Entertainment and Top Cow Productions as they bring two of comics most celebrated heroines together in one terrifying tale of loss and redemption. Red Sonja, the She-Devil with a Sword, and Sara Pezzini, the modern day bearer of the Witchblade, must find a way to defeat... [click here for more] | Dynamite Entertainment | $15.99 |
| The first ONGOING series, co-starring The Daughter Of Drakulon and The She-Devil With A Sword! From Eisner winner JORDIE BELLAIRE (Buffy The Vampire Slayer, Redlands) and DREW MOSS (Star Wars) comes a saga spanning space and time, filled with horror, adventure, mystery and murder! Intended for readers 15+. ... [click here for more] | Dynamite Entertainment | $15.99 |
| The Pathfinders Valeros, Seoni, Kyra, and Merisiel are drawn into the interdimensional Worldscape, where the greatest warriors throughout the history of Barsoom, Golarion, and Earth clash in an ancient battle of life and death! Only the most dangerous among the combatants - a motley assortment which includes such legendary heroes as Red Sonja, John Carter and Tars Tarkas of Mars, the jungle adventurers... [click here for more] | Dynamite Entertainment | $18.99 |
| Four new tales as part of Paizo's groundbreaking "Worldscape" saga, drawing the greatest fantasy heroes of literature and comics into the mythos of their award-winning fantasy world and tabletop RPG! Red Sonja must escape a dungeon with a religious icon of Issus, Goddess of Death and Life Eternal, to use as a bargaining chip in the grim political war of the Worldscape! A battle against a... [click here for more] | Dynamite Entertainment | $12.99 |
| Mystery, murder, and mayhem descends on Riverdale as four of your favorite comic book women meet for the first time. A string of paranormal, unsolved murders leads the vampire hunter Vampirella and her sword-wielding barbarian partner Red Sonja to the small, sleepy town where things always seem to happen... There they discover Betty and Veronica, investigative reporters for the high school newspaper,... [click here for more] | Dynamite Entertainment | $15.99 |