Follow Your Favorites!

Sign in
to get custom notifications of new products!

Featured Product
Let's Draw Manga - All About Fighting
by Digital Manga

Urban street rumbles, battling maids, destructive fantasy creatures and futuristic battle sequences...it's all covered here. Everything from learning how to draw gun combat down to the most pedestrian, this unique instructional guide presents to readers step-by-step drawing techniques for effective manga storytelling from the perspective of a manga artist.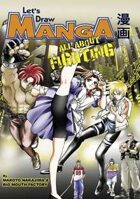 | Products found in this section... | Sort by: |
| --- | --- |
| | | |
| --- | --- | --- |
| Title | Publisher | Price |
| Pepper&Carrot is about "Pepper", a young witch and her cat, "Carrot". They live in a fun fantasy universe made of potions, magic and creatures. It's a comedy/humor webcomic suited for everyone. No mature content, no violence. This book contains a collection of the artworks, sketches and concept-art of the first six years of the webcomic Pepper&Carrot, all of them carefully packed and commented... [click here for more] | David Revoy | $3.50 |
| Zowie! Cartoons is a vault of vintage vixen com strips! Burlesque dancers, mermaids, maraca girls, office ladies, homewreckers, harem slaves, nude models, bikini bunnies, chorus cuties, hot housewives, debutantes, and party queens! 100 Big Pages!... [click here for more] | Mini-Komix | $3.00 $0.99 |
| Bachelor Comics is for all singles that salivate for good girls from the Golden Age. Foxy farmers' daughters, striptease dancers, gorgeous models, babes on the beach, nubile newlyweds, beauty contestants, curvy gunslingers, harem girls, shining showgirls, hot hula ladies, cocktail cuties, and chorus line sirens! 100 Big Pages!... [click here for more] | Mini-Komix | $3.00 $0.99 |
| Campus Humor is a collegiate collection of high flying funnies! Sexy secretaries, beauty queens, delicious debutante, burlesque babes, hot harems, sultry singers, beach bunnies, and naughty neighbors! 100 Big Pages of comic cuties!... [click here for more] | Mini-Komix | $3.00 $0.99 |
| T.N.T. Humor is Golden Age cutie comics. Good girls comic strips of torch singers, hula dancers, artist models, strippers, bikini babes, cigarette girls, cavewomen, burlesque babes, blushing brides, and hot honeymooners. 100 Big Pages... [click here for more] | Mini-Komix | $3.00 $0.99 |
| 28 Eldritch Scenes of Lovecraftian Horror for You to Color! Enjoy coloring an amazing array of scenes, with striking images from H.P. Lovecraft's stories­—and the Call of Cthulhu RPG his imagination inspired (Horror on the Orient Express, Masks of Nyarlathotep, The Fungi from Yuggoth and more). ... [click here for more] | Chaosium | $4.99 $0.99 |
| Horror Comics Coloring Book captures public domain monsters from the Golden Age of comics for you to color in as you want! Vampires, aliens, witches, goblins, mutants, skeletons, demons, ghosts, zombies, banshees, dragons, reapers, gargoyles, werewolves, mummies, freaks, sorcerers, sea monsters, scream queens, and horror hosts! 64 Big Pages!... [click here for more] | Mini-Komix | $0.75 $0.60 |
| A treat for all of you fervent Formidables fans: 36 big pages presenting sketches, all the pencilled pages of the Elastic Lad story published in Tales of the Formidables #1, an action sequence from The Formidables #5 in black and white, and never-before-seen illustrations. Awesome work by Formidables creator Chris Malgrain, Anthony Castrillo, Jean-Marie Minguez, Oliver Hudson, Joe Lacrosaz, Jim... [click here for more] | Oniric Comics | $0.99 |
| A FANTASTIC FANTASY SPECIAL presenting 28 homage covers by Chris Malgrain, Rik Van Niedek, Jim Arden and other Indie creators, featuring their own characters and Golden age heroes. ... [click here for more] | Oniric Comics | $0.99 |
| Comic Clipart: Heroes is a features Golden and Silver Age superheroes! Crusading characters like: Rulah, Dynamo, Black Cat, Mary Marvel, Captain Courageous, Ace Harlem, Blue Beetle, Ann of the Amazon, Dollman, Mark Trail, Cave Girl, Phantom Lady, Lightning, Judy Of The Jungle, No-Man, Uncle Sam, Tiger Girl, and Captain Toosie! Convenient clip art, and all in color!... [click here for more] | Mini-Komix | $1.50 $0.50 |
| Candid Tales are foxy female funnies from the Forties! This includes comic strips of beach bunnies, pretty pinups, cocktail cuties, lingerie lasses, hula hotties, bodacious burlesque, harm honeys, milky mermaids, and dancing divas! 100 Big Pages!... [click here for more] | Mini-Komix | $3.00 $0.99 |
| Comic Clipart: Good Girls has funny females and glamour gals from the Golden Age. Cute clipart of various characters like Mopsy, Bonnie, Farmer's Daughter, Bikini Luv, and Malu the Slave Girl! Convenient clip art, and all in color!... [click here for more] | Mini-Komix | $2.00 $0.75 |
| Comic Clipart: Horror is a whole haunted house of Golden, Silver, and Bronze Age terror! Monsters and madmen like: Dr. Death, Man In Black, and Dr. Graves. Convenient clip art, and all in color!... [click here for more] | Mini-Komix | $1.50 $0.50 |
| Mirth Comics is a collection of old fashion comic strips from the Forties! Humorous satire starring bachelorettes, beach babes, farm girls, tiki tarts, gold diggers, hot housewives, burlesque bunnies, sexy soldiers, belly dancers, starlets, sultry swingers, beauty queens, an models to melt for! 100 Big Pages!... [click here for more] | Mini-Komix | $2.99 $0.99 |
| Funnies For Fellas are a classic collection of cutie comics from the 1940s! Mirthful men's comic strips of curvy coeds, wonderful waitresses, hottie housewives, burlesque beauties, harem honeys, lingerie ladies, stunning showgirls, bachelorette babes, and more! 100 Big Pages of foxy fun!... [click here for more] | Mini-Komix | $3.00 $0.99 |
| Comic Clipart: Retro Men is a gathering of guys from the Golden Age. Creative characters like cowboys, detectives, gangsters, soldiers, and teenage heartthrobs! Convenient clip art, and all in color!... [click here for more] | Mini-Komix | $1.50 $0.50 |
| Comic Clipart: Romance has lovely ladies and smiling gents dating from the Golden Age of comics! Convenient clip art, and all in color!... [click here for more] | Mini-Komix | $1.50 $0.50 |
| Comic Clipart: Cartoons is a collection of comics characters from the Golden Age! This includes favorites like Dixie Dugan, Pidgy the Pidgeon, and Upan Atam! Convenient clip art, and all in color!... [click here for more] | Mini-Komix | $1.50 $0.50 |
| KNOW, OH PRINCE, THAT BETWEEN THE YEARS WHEN THE OCEANS DRANK ATLANTIS AND THE GLEAMING CITIES, AND THE YEARS OF THE RISE OF THE SONS OF ARYAS, THERE WAS AN AGE UNDREAMED OF... The Art of Robert E. Howard's Conan: Adventures in an Age Undreamed Of features a selection of some of the most incredible art associated with the classic barbarian hero ever assembled into one set of covers. With... [click here for more] | Modiphius | $14.99 |
| This coloring book has all your favorite monsters to color! From Great Cthulhu to the lowliest Nightgaunt, this book has it all – forty enormous and enormously terrifying black and white illustrations along with descriptions (on facing pages). This digital edition includes the PDF version of the book. ... [click here for more] | Petersen Games | $14.99 $4.99 |
| Adult Humor is a fancy flock of fantastic funnies from the Forties! Rib ticklers about bathing beauties, lingerie ladies, hula hotties, seductive starlets, beautiful brides, nubile nurses, harem honeypots, spicy showgirls, attractive actresses, burlesque babes, curvy cowgirls, and desirable dancers! 100 Big Pages!... [click here for more] | Mini-Komix | $3.00 $0.99 |
| Laughs And Ladies are Golden Age comic strips of hotties with humor! Cutie comedy with harem girls, burlesque babes, melting models, hot honeymooners, naughty neighbors, dream dolls, jungle jewels, beach bunnies, plus the full-length saucy story of The Fried Piper Of Bam Bam! 100 Big Pages of female funnies!... [click here for more] | Mini-Komix | $0.99 |
| For over 35 years, 2000 AD - 'the Galaxy's Greatest Comic' - has dominated the British comics' industry, delivering stories and characters that have etched their way into the cultural psyche. This highly-collectable book celebrates 2000 AD and Judge Dredd's joint 35th anniversary with a compilation of the most stunning and innovative Judge Dredd-related covers, illustrated by some of the greatest... [click here for more] | Rebellion Publishing Ltd | $14.99 |
| The Art of Werewolf: The Apocalypse A Visual Guide to Werewolf 20th Anniversary Edition Violence is an art form, if it's practiced, perfected, and put on display. That's what we tell ourselves when we cut servants of the Wyrm into slices. We celebrate their destruction, but how that destruction is delivered is the art. Shifting from Lupus to Homid and everywhere... [click here for more] | Onyx Path Publishing | $4.99 $3.49 |
| Cheesecake Comics is a good girls collection of Golden Age comic strips. Sexy singles, gold diggers, pub crawls, sugar daddies, model minxes, fashionistas, beach babes, hula hotties, dancing dames, hot hillbillies, and curvy cavegirls! 100 Big Pages!... [click here for more] | Mini-Komix | $3.00 $0.99 |
| EMBRACE THE SQUEE is the uber-geeky coloring book by John Kovalic! In it you'll find dinosaurs, elder gods, kobolds, pirates and more, pefect for the child in your life, of the inner-child in you! Proceeds from the sale of Embrace the Squee go to The Hero Initiative. The Hero Initiative creates a financial safety net for comic creators who may... [click here for more] | Dork Storm Press | $1.99 |
| After Hours Funnies is a collection of Golden Age comic strips. The work day is over, and time to paint the town red. Adult humor of cocktail parties, night clubs, burlesque shows, steamy dates, hot honeymoons, and bedtime stories. 100 Big Pages!... [click here for more] | Mini-Komix | $3.00 $0.99 |
| The first collection of Luxura Cover and Pin-up art was published in VAMPRESS LUXURA Volume 7. After an extensive search I've compiled enough illustrations to bring you this 2nd volume that I know you will enjoy! The Vampress Luxura first appeared in the pages of the original Vamperotica anthology comic series. This trade paperback collects the stories that appeared in the original... [click here for more] | Vamperotica Entertainment | $9.99 $6.99 |
| Cabaret Comics is a bubbly bundle of bizarre burlesque! Golden Age comic strips of showgirls, strippers, chorus dancers, cigarette girls, models, torch singers, and other cartoon cuties both on and behind the stage! 100 Big Pages of fast fetching females!... [click here for more] | Mini-Komix | $3.00 $0.99 |
| Also includes: Cell Phone Wall Paper. Desktop Wall Paper. This book is a 48 Full Color Page, behind the scenes scans and sketches of the art for the Vampress Luxura: Monster's Gauntlet Illustrated Novella. ... [click here for more] | Vamperotica Entertainment | $5.99 $4.19 |
| A FANTASTIC FANTASY SPECIAL presenting 32 homage covers by Chris Malgrain, Rik Van Niedek and other Indie creators. Featuring The Formidables, Steel Wolf, Shadowflame and Golden Age superheroes. ... [click here for more] | Oniric Comics | $0.99 |
| Armed Forces Funnies collects Golden Age comic strips of soldiers in the Army, Navy, Air Force and Marines! USO shows, budding bunkmates, silly sailors, merry marches, jolly generals, stymied sarges, and foxy females! 100 Big Pages of military madness!... [click here for more] | Mini-Komix | $3.00 $0.99 |
| A FANTASTIC FANTASY SPECIAL presenting 28 homage covers by Chris Malgrain, Rik Van Niedek, Darryl Young and other Indie creators, featuring their own characters and Golden age heroes. ... [click here for more] | Oniric Comics | $0.99 |
| Follow the artistic development of the Exalted roleplaying game all the way from its unused concept art to its current second edition splendor. Along the way, you'll see the world of Exalted brought to life through the talents of the industry's top artists, including Chris Stevens, Hyung-Tae Kim, Adam Warren and many, many more. Within, lavish, full-color art combines with commentary... [click here for more] | White Wolf | $9.99 |
| Girls & Gags is a Golden Age collection of classic cutie comics! Comedy gold featuring hot housewives, groovy gold diggers, sultry secretaries, curvy cavegirls, marvelous models, bodacious brides, heavenly harems, and sexy sugar mamas! 100 Big Pages!... [click here for more] | Mini-Komix | $0.99 |
| Black, White & Red Comics are a Golden Age collection of funnies done in only 3 colors! 100 Big Pages of 1-page comic strips featuring jungle queens, cheesecake cuties, office ladies, showgirls, naughty newlyweds, cocktail parties, beach babes, heavenly harems, and sexy starlets!... [click here for more] | Mini-Komix | $3.00 $0.99 |
| Fantastic Fanzine Gallery collects original material from fanzines by comic book artists. This includes aliens, valkyries, demons, barbarians, elves, vampires, amazons, monsters, pirates, unicorns, goddesses, jungle girls, samurai, astronauts, ghosts, dragons, werewolves, fairies, cowboys, goblins, superheroes, knights, ogres, dinosaurs, space princesses, witches, and zombies! 100 Big Pages!... [click here for more] | Mini-Komix | $0.99 $0.69 |
| Filled cover-to-cover with some of the most amazing illustrations by your favorite Aspen artists including Michael Turner, Ale Garza, Micah Gunnell, Marcus To, Peter Steigerwald, and featuring a ton of surprise guest artists with the likes of Sana Takeda, Francisco Herrera, Randy Green, Francis Manapul, and many more that you won't want to miss. Filled cover to cover with some of the most amazing... [click here for more] | Aspen Comics | $1.99 |
| Kocktail Komix is a collection of Golden Age comics riveting ribticklers! Comic strips for cocktail hour and bachelor pads everywhere. There's party lines, film fun, beach babes, space sirens, army bombshells, milky models, harem hotties, and burlesque queens! 100 Big Pages, and in color!... [click here for more] | Mini-Komix | $3.00 $0.99 |
| Gal Snaps Comics is a collection of good girl comic strips from the Golden Age. This includes naughty newlyweds, busty businesswomen, milky mermaids, foxy farmers, harem hotties, bathing beauties, and nubile nudists! 100 Big Pages!... [click here for more] | Mini-Komix | $0.99 |
| Merry Military Funnies are comic strips from the Golden Age starring men and women of the armed forces. Humor of army, navy, and marines, plus the pros and cons of dating during time in the service. 100 Big Pages of good girls and silly soldiers!... [click here for more] | Mini-Komix | $3.00 $0.99 |
| Babes & Buddies is a Golden Age collection of gals, guys, and gags! Military shenanigans with men and women in the armed forces, plus pretty pinups, and antique adult advertisements! 100 Big Pages of luscious laughter!... [click here for more] | Mini-Komix | $0.99 |
| Twenty-four awesome designs by Bart Sears of the Temporal Comics Universe of heroes and villains. Pencil sketches, inks (by Andy Smith) and a few colored pieces (by Michael Atiyeh) are in this first issue. ... [click here for more] | Temporal Comics | $0.99 |
| Pin-Up Princesses shouts hooray for Hollywood Highlights! Starlets from the Golden Age of movies like Aquanetta, Josephine Baker, Ann Blyth, Theda Bara, Marian Blanchard, Joan Collins, Ann Corio, Yvonne De Carlo, Dona Drake, Ava Gardner, Hedy Lamar, Dorothy Lamour, Marilyn Maxwell, Maureen O'Hara, Ann Margret, Maria Montez, Lana Turner, and Esther Williams! 100 Big Pages!... [click here for more] | Mini-Komix | $0.99 |
| Kirk Lindo is best known as the Author, Artist and Publisher of the Vampress Luxura and Vamperotica line of comics and graphics novels. This book is a full color, 200 page Gallery and Artisitc Autobiography with never before seen images, photos and interviews. This bookshowcases a detailed retrospective of the artist's work. Loaded with articles and... [click here for more] | Vamperotica Entertainment | $14.99 $10.49 |
| A 67 Page, 8.5 x 11, Full Color, Art Book, Collecting of over 400 original Vampress Luxura Sketch Card Illustrations. This Rare Art Book collects all of the Original Art Sketch Cards produced for the Vampress Luxura Sword of the Apocalypse and Monster's Gauntlet Sketch Card sets. This is a Full Color Art Book which contains all of the Sketch Card Art as well Pin-Up Art of the special base cards.... [click here for more] | Vamperotica Entertainment | $9.99 $6.99 |
| A treat for fervent Formidables fans: 36 pages of sketches, pencilled pages, edited scenes, unpublished pages and illustrations! ... [click here for more] | Oniric Comics | $0.99 |
| Fans of THE ASTRO-DOME will enjoy Jim Arden's artbook, featuring his favorite illustrations! 64 pages of superheroes, science-fiction, fantasy and sexy ladies for only $0.99! ... [click here for more] | Oniric Comics | $0.99 |
| Jolly Dolls Comics is a great gathering of glamorous of Golden Age good girls! Comic strips of sparkling showgirls, marvelous models, bikini babes, cocktail cuties, beautiful brides, darling dancers, and ladies of lingerie! 100 Big Pages!... [click here for more] | Mini-Komix | $0.99 |
| The Art of Changing Breeds compiles the sketches, art notes, and alternate color approaches that went into the creation of the art depicting the shapeshifters featured in W20 Changing Breeds. Each Fera gets a section with down to earth commentary by art director "Mirthful" Mike Chaney, and contains a selection of various stages showing the changes and development... [click here for more] | Onyx Path Publishing | $4.99 |