Follow Your Favorites!

Sign in
to get custom notifications of new products!

Featured Product
Strange Detective Mysteries (Graphic Novel)
by Caliber Comics
A science-fiction techno-thriller fantasy where several of the leading creative minds of the early 1900s are brought together to look into the death of Edgar Allen Poe and discover a conspiracy that threatens to destroy all of time and reality!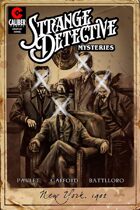 | Products found in this section... | Sort by: |
| --- | --- |
| Title | Publisher | Price |
| --- | --- | --- |
| Startling 70's Horror Comics is a creepy collection of Bronze Age bangers! 100 Big Pages! Blood-curdling tales like: *The Guillotine *Where Gods Once Stood *The Crawled Out Of The Crater *Titan Weep *Hung Up *The Inquisition *Dracula Did Not Die *Taw *The... [click here for more] | Mini-Komix | $0.99 |
| Atomman #1a The Origin of Atomman. Enough said! Written, drawn, and created by Alain Blanchette. Cover by Ramon Serrano. Pages: 24 Format: B & W ... [click here for more] | Red Leaf Comics | $5.00 $0.99 |
| Fantastic Flashback Comics is an adventure-filled anthology with stories from the Golden and Silver Age. Starring heroes suck as Sheena: Queen Of The Jungle, Phantom Circle, The Three Rocketeers, Lash Larue, The Red Blazer, Public Defender, and The Honorable Freddy. Included are thrilling tales of The Flying Saucers, Monster Of The Deep, What's The Answer, and The Accused. 100 Big Pages. ... [click here for more] | Mini-Komix | $3.00 $0.99 |
| Crime will never pay, as shown in the spine-chilling tales from the 1950s presented in this issue: - ONE-ARMED BANDIT - ESCAPE! - DOCTOR FOR THE DEAD - GIFT OF MURDER ... [click here for more] | Oniric Comics | $0.99 |
| Great White Wonders are Canadian superheroes from the Golden Age of comics! Canuck crusaders like Thunderfist, Nitro, and The Brain. Super-powered protectors from the Great White North! 100 Big Pages!... [click here for more] | Mini-Komix | $3.00 $0.99 |
| Oniric presents its first detective comic, featuring three amazing tales: - Jay Peters, the Human Fly - Steve Case, Crime Rover: Poison Pen Murder - Private Investigator Calamity Jane: The Case of the Hapless Hackie, by Bill Draut. ... [click here for more] | Oniric Comics | $0.99 |
| Canadian Comic Book Heroes are Golden Age adventures from the Great White North. Daring defenders of Canada are lost heroes from the era of World War II. These Canuck crusaders include Drummy Young, Clip Curtis, Nitro, Active Jim, Flying Fool, Speed Savage and Crash Carson. 100 Big Pages long. ... [click here for more] | Mini-Komix | $0.99 |
| Sass Parilla the Singing Gorilla hosts this classic comic collection of fabulous females and awesome apes in Girls and Gorillas! The boss blue bassist narrates some of the strangest stories of the Golden Age where heavenly heroines clashed with gargantuan gorillas. Starring: Sheena, Starr Flagg, Thun'da, Cave Girl, Kaanga, Fantomah, and Vooda! 100 Big Pages!... [click here for more] | Mini-Komix | $0.99 |
| This is the first issue in the EftD series. Antecedent While on the verge of death from an intentional drug overdose, a brilliant, celestial entity offers a grief-striken man a second chance. Upon accepting it, the entity takes him to Memphis, Tennessee in 1958 beginning a tale of murder, lust, and larceny. This is the remastered version.  The images have been retouched and brightness corrected,... [click here for more] | Existence for the Damned | Pay What You Want |
| Octobriana is The First Russian Superheroine! Originally introduced as a European fanzine character, the time-traveler was brought into the world of Russian underground comics as a radioactive immortal with super strength that battles invading hordes, giant monsters, and the forces of oppression! This Silver Age siren is living proof that you don't come between an amazon and her cola!... [click here for more] | Mini-Komix | $0.99 |
| Ditko Madness is a collection of the strange works of Steve Ditko, the co-creator of Spider-Man! 100 Big Pages of fantasy, horror, sci-fi, and giant monsters! Weird tales to astound like: *The Night People *You Are The Jury *Buried Alive, *The Worm Turns *Inheritance *A World Of His Own *No Bars Could Hold Him *The Mark Of The Ripper *Triple-Header *What Was In Sam Dora's Box? *The Unicorn... [click here for more] | Mini-Komix | $0.99 |
| Comic Stippers prints public domain pulp pretties! Learn the secret origin of Sheena: Queen of the Jungle, courageous Catgirl takes on a voodoo queen, the Femizons rule Earth in the future, Pantha leads a double life as a werecat, plus an adaptation of One Million Years B.C. Golden Age to Bronze Age angels throughout the history of comics!... [click here for more] | Mini-Komix | $0.99 |
| All-Old, All-Original Superheroes are fresh ama-heroes from Silver and Bronze Age fanzines! Men of mystery comics featuring striking characters like The Liberty Legion, Hyperman, The Eye, Goodguy, Mister Blister, Quad-Man, Great Scott, Powerman, and The Guardian Council. 100 Big Pages of independent crusaders!... [click here for more] | Mini-Komix | $0.99 $0.74 |
| Bizarre Fantasy is an enigmatic amalgamation of classic sci-fi and horror comics. 100 Big Pages of Silver and Bronze Age comics of the otherworldly adventures! This includes mysterious tales like: *Who Toys With Terror *The Old Vampire Lady *The Phantom Of Philip Hawks *The Yeti *The Creature Within *The Thing In The Box *The Discombobulated Hand *Pressed For Time... [click here for more] | Mini-Komix | $3.00 $0.99 |
| Strange Character Comics are bizarre sci-fi stories from the Golden, Silver, and Bronze Age. 100 Big Pages of time travel, aliens, monsters, robots and space babes! Esoteric tales like: *To Live In Alloy Continuity *The Creature From The Bolinas Lagoon *Spaceship Comix *Unknown Rescuer *Introducing God *Snatcher *Old Pirates Never Die *Sasquatch *Bride Of The Swamp *The Dead Planet *Attack... [click here for more] | Mini-Komix | $2.00 $0.99 |
| Superheroines from the Golden Ages of Comics! Feast your eyes on the feats of Miss Masque, Phantom Lady, Mysta Of The Moon, Spider Queen, Camilla, Yankee Girl, Fantomah, Pat Patriot, Blonde Bomber, Kitty Kelly, Girl Commandos, War Nurse, and Nyoka The Jungle Girl.... [click here for more] | Mini-Komix | $0.99 |
| Superheroes Great And Small assembles some of the greatest characters of the Golden Age of comics! Super heroic men of mystery like Doll Man, The Flame, Uncle Sam, Black Condor, and The Ray! 100 Big Pages of heroes of all sizes!... [click here for more] | Mini-Komix | $3.00 $0.99 |
| Detective Dames is a spinoff of Daring Dames featuring sexy snoops from the Golden Age of Comics! 100 Big Pages of darling detectives! Gorgeous gumshoes like: *Glory Forbes *Sally the Sleuth *Betty Blake *Jane Martin *Gail Ford-Girl Friday... [click here for more] | Mini-Komix | $3.00 $0.99 |
| Queens Of The Jungle is a stunning safari of Golden Age congo cuties! A triple feature of stories starring Nyoka the Jungle Girl, Tiger Girl, and the legendary Sheena! These swinging sisters save the savanna from feuding tribes, slavers, stampedes, poachers, pirates, and voodoo! 100 Big Pages!... [click here for more] | Mini-Komix | $0.99 |
| Diversions #4 is here at last! Under the stunning Steven Butler (with colors by Mort Todd) cover you'll find awesome tales of heroism and action! Introducing the late, great Donnie Page's U.S. FLAG and LIBERTY LAD! From the unopened files of WWII comes the story of the Starred and Striped Sentinel's battle against the evil of Von Loke and ...no, you won't believe it until you see it! Art by Donnie... [click here for more] | Blue Moon Comics Group | $3.50 $0.99 |
| Scream-Zine is a collection of horror comics from fanzines of the Silver to Bronze Age. This includes tales of the Bogeyman, the Devil himself, vampires, cursed books, burnt bears, wizards, werewolves, gothic girls, undying heads, creative corpses, aliens, and axe murderers. 100 Big Pages long!... [click here for more] | Mini-Komix | $2.99 $0.99 |
| Down Under Wonders is a collection of Australian comic book heroes from the Golden Age! This includes the very first Captain Atom, Jet Fury, Phantom Ranger, Devil Doone, plus Catman & Kit! Awesome adventures from Australia! 100 Big Pages!... [click here for more] | Mini-Komix | $3.00 $0.99 |
| More details about Tessa Theus' life are unveiled. Nothing is like it seems on MANIFEST. ... [click here for more] | OneSheepArmy Studios | $1.99 |
| U.K. Komix brings some of the greatest public domain comics from across the pond! This includes British stars like Ace Hart, Captain Future, TNT Tom, Electro Girl, Cheery Gang, Swift Morgan, Masterman, Splash Page, Thunderbolt Jaxon, and the Scientific Investigation Bureau. 100 Big Pages of Britain's Best!... [click here for more] | Mini-Komix | $3.00 $0.99 |
| MANIFEST continues its extravagant ride in the tradition of 70's/80's adult comix! An issue that will make you scream "SAFE SPACE!" even after its end! An unexpected event leads Tessa Theus into an even less predictable situation. Like the Wayfarer once said to her: "Nothing can be completely destroyed," especially the past. ... [click here for more] | OneSheepArmy Studios | $1.99 |
| Classic tales of horror from the silver age of comics! Featuring the work of Bill Everett, Wally Wood, Rich Buckler, Mike Esposito, Marv Wolfman, Gardner Fox, Gerry Conway and more!  ... [click here for more] | Public Domain Comics | $4.99 $2.99 |
| Krusader Komix is fearless famous fanzine heroes from the Golden Age of underground comics! The 60s were the dawn of Ama-Heroes, original amateur heroes made for fans, by fans. Starring Xal-Kor the Human Cat, White Canary, Goodguy, The Defender, Martin Grimm, Sorcerer's Apprentice, The Eclipse, Thunderbunny, Matrix, Space Guardian, Doctor Weird, and The Eye! 124 pages of rare original superheroes!... [click here for more] | Mini-Komix | $0.99 |
| High Flying Heroes is a collection of public domain comics from the Golden and Silver Age. Into the wild blue yonder with The Flying Fool, Miracle Man, Wings Turner, and the Solar Legion. Up, up and away in 100 Big Pages of soaring superheroes!... [click here for more] | Mini-Komix | $3.00 $0.99 |
| Ghostly Tales From The Haunted House are creepy comics from the Golden and Silver Age. 100 Big Pages of horror hits! There's scary stories like: *The Night Of The Laughing Wolf *Experiment In Terror *The Devil's Chair *Weird Worlds *The Hole Of Hell *Epitaph *The Green Witch *Peg Powler *Twisted Hands *The Fisherman Of Space *Grip On Life *Picture Of Evil *The Phantom Of Opera *Decapitation... [click here for more] | Mini-Komix | $3.00 $0.99 |
| Jack Kirby's G-Men Files is a collection of the King's greatest crime comics from the Golden Age. Along with Joe Simon, Kirby created intriguing tales based on actual FBI cases. 100 Big Pages of classic comic book criminal cases! This includes: *The Dummies Died Screaming *Pay Up Or Die *Gang Doctor *The Terrible Whoys *Death Takes A Holiday *The Case Of The Forgotten Killer *Come With Me... [click here for more] | Mini-Komix | $3.00 $0.99 |
| Jungle Girl Journals chronicles congo queens from the Golden Age of Comics! Sheena: Queen of the Jungle, Tygra, Judy of the Jungle, and Taanda: White Princess of the Jungle in an anthology of amazing amazon adventures! Prose stories of swinging sisters with voodoo, feuding tribes, and the entire wild kingdom!... [click here for more] | Mini-Komix | $0.99 |
| One of the most influential stars of science fiction, John Russell Fearn's Golden Amazon featured in numerous British and Canadian pulp magazines, who eventually got her own series of novels. Created as the first genuine superhuman, Violet Ray raised herself using her superior strength and intelligence to conquer the world, but eventually became mankind's interstellar savior as the "Golden Amazon".... [click here for more] | Mini-Komix | $0.99 |
| Fawcett Publications produced some of the greatest Golden Age superheroes, so get a refresher course with the Fawcett Freedom Fighters! Starring the original Captain Marvel, Captain Marvel Jr., Mary Marvel, Spy Smasher, Ibis the Invincible, Mr. Scarlet, Pinky, Golden Arrow, Phantom Eagle, Nyoka the Jungle Girl, Captain Midnight, Bulletman, Bulletgirl, and Bulletdogl! Say "Shazam" and summon the Secret... [click here for more] | Mini-Komix | $0.99 |
| ONIRIC PRESENTS features short stories of various genres by established creators and amazing new artists. We gave them carte blanche to create the stories they really wanted to tell. The tales presented in this sensational fourth issue are: - STALAGMITE VS MUSSEL-MAN, a crossover between the rocky member of The Formidables and the goofy Golden Age hero, by Alex Lavaur & Lorenzo - THE GATE,... [click here for more] | Oniric Comics | $0.99 |
| Wonder Wayback Comics are astounding tales from the Golden & Silver Ages. Plenty of action from characters like Captain Tim, Kid Dugan, Mr. Merlin, Richard Venner, Phantom O' The Hills, Robin Hood, Speck Smith, Kansas Kid, Doll Man, Newsreel Cameramen, Mr. Ghost, Dugan Of The Lumberjacks, and Kid Kalahan. 100 Big Pages! Also included are adventures like: *Rocks Of Fate *Fishermen's Luck *Code... [click here for more] | Mini-Komix | $3.00 $0.99 |
| Weird Horrors is a haunted horde of beastly Bronze Age comics. This includes: The Werewolf, Satan's Graveyard, The Giant Death Rat, A Father's Lament, The Penitent, Rot Robin Rot, The Ancient One, At Mind's Edge, Demonic Possession, The Corrupt Shall Dine, The End Of All Vampires, Only The Wretched Die Young, The Night Of The Corpse Bride, and Whence Stalked The Werewolf! 100 Big Pages!... [click here for more] | Mini-Komix | $3.00 $0.99 |
| Baffling Mysteries are stirring startling stories from the Golden to Bronze Age of Comics from all around the world! 100 Big Pages of ghost pirates, robot armies, witchcraft, mutant freaks, alien invaders, and the living dead! Terrifying tales like: *Seat Of Doom *The Absent Heart *Dearly Departed *The Hundred Year Witch *Those Ever-Lovin' Space Shoes *Temple Of The Beast *A Shocking Tale... [click here for more] | Mini-Komix | $3.00 $0.99 |
| Remembered as the father of modern horror, H.P. Lovecraft is best known for tales of terror, cosmic abominations and especially his most famous creation, the dreaded Cthulhu! Few realize, however, the true creative breadth and depth spanned by Lovecraft, who penned stories of horror but also of fantasy, science fiction and even humor. Within Mythos, writer Brandon Barrows and artist Hugo Petrus go... [click here for more] | Caliber Comics | $7.99 |
| Deadly Dames brings you Ghastly Gals, a collection of horror stories from the Golden Age of comics featuring monstrous maidens and evil enchantresses There's voluptuous vampires, murderous mermaids, wicked witches, ghostly girls, snake goddesses, seductive sirens, satanic brides, jungle queens, slinky sorceresses, and women of the web. Crypt cuties and horror hotties get their graveyard groove on in... [click here for more] | Mini-Komix | $0.99 |
| Diversions #5 is coming at you! This issue kicks off with a BAM! with our cover featured NIGHT SPIDER vs. The Iguana action-fest! Cover and story art by the amazing JW Erwin! Cover colors by the ascendant Rob Shalda! Next up is the story you've been waiting for--a BRAND NEW KRAGOR saga! Kragor falls in love-- but that never goes well for a savage, does it? Astounding art by David Johnson Jr.! Wanna... [click here for more] | Blue Moon Comics Group | $3.50 $0.99 |
| Devilina: Tales of the Sorceress brings the Daughter of the Devil into her own hellish horror anthology! Devilina learns she's a spawn of Satan, and resolves to use her demonic powers to fight her fiendish father! She also narrates terrific Tales of the Sorceress filled with witches, werewolves, ghosts, zombies, robots, space goddesses, cave girls, warrior women, and horror hotties!... [click here for more] | Mini-Komix | $0.99 |
| Interesting Monsters is a collection of curious creatures from classic comics! Mummies, aliens, werewolves, demons, robots, kaiju, zombies, and grotesque ghouls! 100 Big Pages! Abnormal abominations like: *The Fanged Monster *Horror Tree *The Werewolf *It Will Roam Tonight *The Deadly Little Invaders *Monster In Cloth *The Reuger Formula *Out Of The Unknown *Doom Creatures *Moon Stalker... [click here for more] | Mini-Komix | $3.00 $0.99 |
| Cartoons From Canada are humorous comic strips from the Great White North during the Golden Age. There is Wilbur, Buz and his Bus, Dingwallis, Tugboat Tuby, Clipper the Cat, The Mongoose, Professor Punk, Eggbert, Casey Bones, Wily Wolf, Loopy the Droop, Judge Mint, The Noodle, Homer and his Hound, Kernal Korn, Oolay the Eskimo, Izzy Brite, George and Looey, plus Dizzy Don. 100 Big Pages of classic... [click here for more] | Mini-Komix | $3.00 $0.99 |
| Diversions #3 is here with a trio of crime-busting superheroes! NIGHT SPIDER faces the diabolical duo of Megabyte and Googol! Art by JW Erwin! THE BLACK ROSE solves a murder in a faux Golden Age tale! Art by David Vance! The legendary Wraith of Wrath, THE MIDNIGHT STRANGER returns in a brand new adventure! Art by Joe Koziarski! All this and a pulsating NIGHT SPIDER pin-up by Dana Black! All stories... [click here for more] | Blue Moon Comics Group | $3.50 $0.99 |
| Premiering in Hell-Rider magazine from 1971 during the Bronze Age, The Butterfly was the very first African-American comic book superheroine! Marian Michaels leads a double-life not only as a hit Vegas nightclub singer, but as the masked maiden known as Butterfly. Aside from being a hand-to-hand combat expert, Butterfly also uses blinding light effects, suction gloves, and a jumping jet pack to fight... [click here for more] | Mini-Komix | $0.99 $0.75 |
| Charlton Champions features heroic heroes from Charlton Publications, dating from the Golden to Bronze Age! This includes Captain Atom, Blue Beetle, Diana the Huntress, Mr. Muscles, Space Ranger Budwell, Yellowjacket, Ambia, Masked Raider, Sir Lancelot, Billy the Kid, Davy Crockett, and Space Brigadier Garner! 100 Big Pages of Champions of Justice!... [click here for more] | Mini-Komix | $3.00 $0.99 |
| Edgar Allan Poe was the 19th Century master of macabre, and he influenced several comics creators to make their own adaptations of his prose. 100 Big Pages of gothic horror! Including tales like: *The Raven *William Wilson *A Descent Into The Maelstrom *The Cask Of Amontillado *Berenice *The Tell-Tale Heart *Ligeia *The Pit And The Pendulum *Ms. Found In A Bottle *The Oblong Box *Metzengerstein... [click here for more] | Mini-Komix | $3.00 $0.99 |
| ONIRIC PRESENTS features short stories of various genres by established creators and amazing new artists. We gave them carte blanche to create the stories they really wanted to tell. The tales presented in this sensational third issue are: - MAX MIRACLE: LIV ELAINE AT THE CENTER OF THE UNIVERSE, by Lloyd Smith & Joe Koziarski. (superhero/sci-fi) - BACK IN HELL, by Jim Arden. (war) - GRIMM &... [click here for more] | Oniric Comics | $0.99 |
| Gaslamp Gothic brings the world of steampunk and gaslight fantasy in one dark horror collection. Regulars like Spring Heeled Jack, Frankenstein, the Mummy, Jack the Ripper, Dr. Jekyll, and the Phantom of the Opera; along with ancient gods, mad scientists, weird west, macabre murders, time travel, and murky monsters. 100 Big Pages of arcane alternate fantasy!... [click here for more] | Mini-Komix | $0.99 |
| Red Hot Retro Heroes are thrilling action comics from the Golden and Silver Age. Courageous crusaders like Crimebuster, Belle Starr, Daniel Boone, Captain Miracle, William Tell, and Johnny Alamo. Superheroes, cowgirls, explorers, and heroic archers in tales of derring-do. 100 Big Pages!... [click here for more] | Mini-Komix | $3.00 $0.99 |