Follow Your Favorites!

Sign in
to get custom notifications of new products!

Featured Product
Valiant: The First Arcs Part 1 [BUNDLE]
by Valiant Comics
You've seen the reviews. You've heard the buzz. Now discover the best-selling, critically acclaimed first volumes of X-O Manowar, Harbinger, Archer & Armstrong, Bloodshot, and Shadowman.
Start reading here to find out why Valiant is one of the most talked about publishers in superhero comics today!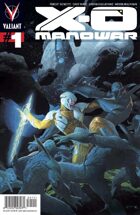 | Products found in this section... | Sort by: |
| --- | --- |
| | | |
| --- | --- | --- |
| Title | Publisher | Price |
| Superheroes Great And Small assembles some of the greatest characters of the Golden Age of comics! Super heroic men of mystery like Doll Man, The Flame, Uncle Sam, Black Condor, and The Ray! 100 Big Pages of heroes of all sizes!... [click here for more] | Mini-Komix | $3.00 $0.99 |
| Wonder Wayback Comics are astounding tales from the Golden & Silver Ages. Plenty of action from characters like Captain Tim, Kid Dugan, Mr. Merlin, Space Mouse, Richard Venner, Phantom O' The Hills, Robin Hood, Speck Smith, Kansas Kid, Eddie The Odd, Newsreel Cameramen, Mr. Ghost, Dugan Of The Lumberjacks, and Kid Kalahan. 100 Big Pages! Also included are adventures like: *Rocks Of Fate *Fishermen's... [click here for more] | Mini-Komix | $3.00 $0.99 |
| The golden age Daredevil was one of the most popular heroes of the golden age of comics, running for an entire decade before the mass comic company closure of the 1950s. This volume features the legendary Jack Cole's entire run on the golden age Dare-Devil, as well as the subsequent run by Don Rico and the historic Daredevil Battles Hitler epic, where the Lev Gleason heroes were the first to take on... [click here for more] | Public Domain Comics | $5.00 |
| Mini-Komix plays an All Ages Album for the kid in all of us! This graphic novel collects family friendly short stories like the size-changing superhero known as The Plus, Monster and The Rockits band together, go to the ghastly town of Gloomstadt, the time travelling T.E.D. searches for the Infinity Compass, and more! Comic craziness for the young, and young at heart!... [click here for more] | Mini-Komix | $0.99 $0.50 |
| The greatest heroes of the golden age of comics are turning 80! This volume stars the first muck monster in comics, the Heap! Featuring golden age comics, historical reference and a special pin-up gallery by the incredible Jay Piscopo! ... [click here for more] | Public Domain Comics | $2.99 |
| All-Old, All-Original Superheroes are fresh ama-heroes from Silver and Bronze Age fanzines! Men of mystery comics featuring striking characters like The Liberty Legion, Hyperman, The Eye, Goodguy, Mister Blister, Quad-Man, Great Scott, Powerman, and The Guardian Council. 100 Big Pages of independent crusaders!... [click here for more] | Mini-Komix | $0.99 $0.74 |
| The Three Cheers are the original heroic trio of comics! Hailing from the Golden Age, three friends: Sis, Boom, and Bart were former stage performers that join the Allied Forces at the dawn of World War II. They get framed by Nazis which has them discharged, so now they go by the handle "The Three Cheers" as secret vigilantes to stop the Axis Powers. The complete comics run, and in full color!... [click here for more] | Mini-Komix | $2.00 $0.75 |
| Kayfabe is back with a second anthology filled with pro wrestling comic goodness. Some of the same "competitors" have returned for this volume, but we also have plenty of "rookie superstars" that have stepped up to the challenge. ... [click here for more] | Kayfabe Anthology | $6.00 |
| U.K. Komix brings some of the greatest public domain comics from across the pond! This includes British stars like Ace Hart, Captain Future, TNT Tom, Electro Girl, Cheery Gang, Swift Morgan, Masterman, Splash Page, Thunderbolt Jaxon, and the Scientific Investigation Bureau. 100 Big Pages of Britain's Best!... [click here for more] | Mini-Komix | $3.00 $0.99 |
| High Flying Heroes is a collection of public domain comics from the Golden and Silver Age. Into the wild blue yonder with The Flying Fool, Miracle Man, Wings Turner, and the Solar Legion. Up, up and away in 100 Big Pages of soaring superheroes!... [click here for more] | Mini-Komix | $3.00 $0.99 |
| The greatest heroes of the golden age of comics are turning 80! This volume stars Airboy! A fan and creator favorite for reboots, Airboy is the ultimate dieselpunk hero! Co-starring the Femme Fatale of the Airfighter's universe, the Valkyrie! Featuring golden age comics, historical reference and a special pin-up gallery by the incredible Jay Piscopo! ... [click here for more] | Public Domain Comics | $2.99 |
| Hoppy the Marvel Bunny is the very first parallel universe version of a superhero in comics! From Fawcett's Funny Animals series, Hoppy is a young rabbit who after reading Captain Marvel comics discovers he can transform by saying "Shazam" which turns him into Marvel Bunny, the World's Mightiest Bunny. He uses his superpowers to punch Nazis, meet his future self, duels pirate fish, team up with Billy... [click here for more] | Mini-Komix | $2.99 $0.99 |
| Sci-Fi/Fantasy Fanzine Art is a collection of illustrations from various Bronze Age publications. This includes barbarians, dinosaurs, aliens, robots, knights, monsters, astronauts, vikings, zombies, princesses, sorcerers, dragons, jungle girls, soldiers, and superheroes. 100 Big Pages!... [click here for more] | Mini-Komix | $0.99 $0.74 |
| Mini-Komix mixes together this special collection of our best stories in one groovy tape for a road trip! Meet Kitty Honey the average teen-turned catgirl/superhero who teams up with her sidekick Neko Kamen, Beautiful has young heroes in love, Martian catgirls invade Gaijin Hi, How To Snare looks into an urban life, buccaneers battle the undead in Zombie Vs. Pirate, Rabina is your stereotypical magical... [click here for more] | Mini-Komix | $1.99 $0.99 |
| Happy 4th of July! Celebrating America with a cavalcade of star-spangled super-heroes including Super-American, Uncle Sam, the Avenger, Airboy and more! Featuring golden age comics, historical reference and special previews of our new original titles with art by the incredible Jay Piscopo! ... [click here for more] | Public Domain Comics | $2.99 |
| Lucky Dale, Girl Detective is a police detective from the late 1940s. This buxom blonde cracks down on crime as an escapist and fearsome fighter. Good girl cliffhanger adventures from the Golden Age of Comics, and in color!... [click here for more] | Mini-Komix | $3.00 $0.99 |
| Fanzine Sardines produces a parcel of Perfect Parodies. Spoofs of various comic strips, superheroes, magazine ads, pulp fiction, and space adventures. Silly satire from funny fanzines!... [click here for more] | Mini-Komix | $0.99 $0.84 |
| The Cunning Commander Steel was Canada's own super-soldier. While on tour in Egypt during WWII, Jack Steel is given the special Elixir of Power that endows him with him super strength and enhanced speed. Sometimes called The Man of Might, Steel now uses his powers as an agent of the International Police Service fighting either Nazis, or post-war fascists and gangsters. A full color superhero comic... [click here for more] | Mini-Komix | $0.99 $0.75 |
| Mini-Komix keeps putting out the hits with this traditional Ashcan Album! Some of our regular characters in new stories, as well as fresh material! This features two stories of T.E.D.(Time Exploration Droid), plus High School Sweethearts, Kitty Honey, Gaijin Hi, and Sushi Breakfast from Senshi Vs. Sentai. All this and Seasons Greetings From Hell! Hip hits from the indy comics crowd! 100 Big Pages!... [click here for more] | Mini-Komix | $2.99 $0.99 |
| Delecta Of The Planets is a galactic good girl comic from C.C. Beck, the creator of Shazam! The newly crowned Queen of the Kalpan System befriends visiting Earthlings, who help defend her throne from greedy usurpers. A family-friendly sprawling space opera from the Golden Age, and in color!... [click here for more] | Mini-Komix | $0.99 |
| Freaky But Funky Comics is a collection of black light funnies from the Bronze Age! Underground antics like mutants, aliens, canine politics, space scooters, acid trips, deranged dinos, and a groovy grim reaper! 100 Big Pages of psychotronic 70s stories!... [click here for more] | Mini-Komix | $3.00 $0.99 |
| Red Hot Retro Heroes are thrilling action comics from the Golden and Silver Age. Courageous crusaders like Crimebuster, Belle Starr, Daniel Boone, Captain Miracle, William Tell, and Johnny Alamo. Superheroes, cowgirls, explorers, and heroic archers in tales of derring-do. 100 Big Pages!... [click here for more] | Mini-Komix | $3.00 $0.99 |
| This first collection of the bestselling series created by MARC SILVESTRI, DAVID WOHL, BRIAN HABERLIN, and MICHAEL TURNER equips streetwise cop Sara Pezzini with the mysterious Witchblade, a weapon of prehistoric origin and untold power. As the artifact's bearer, Sara goes toe to toe with a Machiavellian industrialist, supernatural serial killers, and far worse, as the supernatural underworld of... [click here for more] | Top Cow | $23.99 $19.99 |
| Down Under Wonders is a collection of Australian comic book heroes from the Golden Age! This includes the very first Captain Atom, Jet Fury, Phantom Ranger, Devil Doone, plus Catman & Kit! Awesome adventures from Australia! 100 Big Pages!... [click here for more] | Mini-Komix | $3.00 $0.99 |
| Octobriana is The First Russian Superheroine! Originally introduced as a European fanzine character, the time-traveler was brought into the world of Russian underground comics as a radioactive immortal with super strength that battles invading hordes, giant monsters, and the forces of oppression! This Silver Age siren is living proof that you don't come between an amazon and her cola!... [click here for more] | Mini-Komix | $0.99 |
| The greatest heroes of the golden age of comics are turning 80! This volume stars Airboy! A fan and creator favorite for reboots, Airboy is the ultimate dieselpunk hero! Featuring golden age comics, historical reference and a special pin-up gallery by the incredible Jay Piscopo! ... [click here for more] | Public Domain Comics | $1.99 |
| The Doctor Will See You Now! What happens if you're a suicidal superhero (but can't kill yourself, because you're invulnerable)? How about a washed-up child superhero sidekick, now well into a mid-life crisis? Welcome to the world of Frederick Wertham Blink, Specialist in Supra-Human Psychosis - AKA, Dr. Blink, Superhero Shrink. From the award-winning yet fervored minds of John... [click here for more] | Dork Storm Press | $9.99 |
| Trashman Begins is the origin of the Bronze Age superhero. Created by Spain Rodriguez, the cyberpunk character appeared in several underground comic books. In a dystopian future, former mechanic Harry Barnes is given powers by the Sixth International rebel militia to fight back against the tyrannical fascists ruling the country. With his new powers of super-strength and shapeshifting, Trashman is aware... [click here for more] | Mini-Komix | $0.59 |
| Krusader Komix is fearless famous fanzine heroes from the Golden Age of underground comics! The 60s were the dawn of Ama-Heroes, original amateur heroes made for fans, by fans. Starring Xal-Kor the Human Cat, White Canary, Goodguy, The Defender, Martin Grimm, Sorcerer's Apprentice, The Eclipse, Thunderbunny, Matrix, Space Guardian, Doctor Weird, and The Eye! 124 pages of rare original superheroes!... [click here for more] | Mini-Komix | $0.99 |
| The greatest heroes of the golden age of comics are turning 80! This volume stars Captain Commando! Featuring golden age comics, historical reference and a special pin-up gallery by the incredible Jay Piscopo! ... [click here for more] | Public Domain Comics | $2.99 $0.99 |
| The very first Captain Atom premiered in the Golden Age, over a decade before the Charlton Comics character. Written by Jack Bellew and drawn by Arthur Mather, this was the original Australian Atom Man! Dr. Rador grew up on the island of Atol, and given bizarre atomic superpowers. He escapes with the bikini-clad Princess Lais to the mainland where he battles the evil forces of Wrecker and his partner... [click here for more] | Mini-Komix | $2.00 $0.75 |
| Crack open the files of the secret agency known as S.C.O.R.E. with their top agent, Pussycat! The "Secret Council Of Ruthless Extroverts" recruit their curviest(but mostly clueless)spy, who was promoted from being a lowly secretary after they see her overwhelming allure over men. Pussycat slinks her way into the evil organization called L.U.S.T. by going undercover, either by stopping an enemy submarine,... [click here for more] | Mini-Komix | $1.25 |
| HE LOVES PEACE SO MUCH THAT HE'LL FIGHT FOR IT! United States Diplomatic Envoy Christopher Smith is renowned for his devotion to negotiating peaceful resolutions to conflicts around the world. When diplomacy fails, however, he picks up an arsenal of highly advanced weaponry, dons an advanced suit of battle armor, and sets about ending conflict through force as the mysterious... [click here for more] | NUELOW Games | $2.25 |
| Thrilling Throwback Comics is an all out album of adventures from the Golden and Silver Age. Action heroes like TNT Todd, Public Defender, Wild Boy, Doc Holliday, Kitty Kelly, Skipper Ham Shanks, Dudley Dance, Explorer Joe, and The Crusaders. 100 Big Pages of genre-crossing cliffhangers! Included are capers like: *Terror Of The Snows *Late Tour *The Big Wheel Of Bleeker Street *Signal 32 *They... [click here for more] | Mini-Komix | $3.00 $0.99 |
| Superheroines from the Golden Ages of Comics! Feast your eyes on the feats of Miss Masque, Phantom Lady, Mysta Of The Moon, Spider Queen, Camilla, Yankee Girl, Fantomah, Pat Patriot, Blonde Bomber, Kitty Kelly, Girl Commandos, War Nurse, and Nyoka The Jungle Girl.... [click here for more] | Mini-Komix | $0.99 |
| Cabaret Comics is a bubbly bundle of bizarre burlesque! Golden Age comic strips of showgirls, strippers, chorus dancers, cigarette girls, models, torch singers, and other cartoon cuties both on and behind the stage! 100 Big Pages of fast fetching females!... [click here for more] | Mini-Komix | $3.00 $0.99 |
| Subterranean Funnies are comics from the literal underground of the sizzling Seventies! Menacing monsters, zesty zombies, sadistic superheroes, insatiable insects, devious demons, murky murders, sexy space sirens, and creepy cartoon critters! 100 Big Pages of hippie hits!... [click here for more] | Mini-Komix | $3.00 $0.99 |
| Long out of print trade paperback, Aphrodite IX returns with a brand all-new painted cover by original series artist David Finch (Moon Knight, New Avengers). Aphrodite IX Trade collects issues #1-4 of the series of the same name as well as the hard to find issue #0 plus incredible bonus art by Marc Silvestri (Civil War: The Initiative, Hunter-Killer), Joe Benitez (Supergirl), and Michael Turner (Superman/Batman,... [click here for more] | Top Cow | $7.99 |
| Underground Primer is your personal breakthrough into the gritty world of Bronze Age independent comics! Find out what life in the futuristic 80s would be, take a car to outer space, boogeymen boogie on, cartoon animals get messed up, aliens invade comix, and a superhero takes on God! 100 Big Pages!... [click here for more] | Mini-Komix | $3.00 $0.99 |
| Queens Of The Jungle is a stunning safari of Golden Age congo cuties! A triple feature of stories starring Nyoka the Jungle Girl, Tiger Girl, and the legendary Sheena! These swinging sisters save the savanna from feuding tribes, slavers, stampedes, poachers, pirates, and voodoo! 100 Big Pages!... [click here for more] | Mini-Komix | $0.99 |
| Fanzine Sardine tells terrific Tales In 2-D! Amazing comics from fanzines of the 50s-70s! Includes how to make 3-D comics by Joe Kubert, tragic truths, atomic antics, happy hippies, primo parodies, space sirens, devious doctors, anxious animals, and horrific hangovers!... [click here for more] | Mini-Komix | $1.99 $0.99 |
| The Prestigious Presto Kid was a masked magician in the Old West! Jeff Grant was a blacksmith who learned from a travelling chemist that also dabbled in stage magic. Taking what he knew, Jeff used his tricks instead of guns to bring rustlers, robbers, and roughhousers to justice as The Presto Kid! Sleight of hand, great escapes, and cliffhanger thrills in this wild western superhero comic! The entire... [click here for more] | Mini-Komix | $0.75 $0.59 |
| From the magical mind of Paul Dini (Countdown, Detective Comics) comes a new, original femme fatale story that combines elements of film noir, tech, and superhero comics. Superbly drawn by rising star Kenneth Rocafort (Hunter-Killer), this volume collects Season 1 #1 - #6 of this amazing story, a cover gallery, and insightful behind-the-scenes material, plus an all-new cover by Rocafort! ... [click here for more] | Top Cow | $8.99 |
| Put a shrimp on the barbie for the best public domain comics from down under in Aussie Komix! Australia's awesome alumni like Phantom Knight, Grey Domino, Jet Fury, Glamour Girl, Sir Falcon, Konga, Grey Thorne, the Australian version of Catman, and the original Captain Atom! 100 Big Pages!... [click here for more] | Mini-Komix | $0.99 |
| Detective Dames is a spinoff of Daring Dames featuring sexy snoops from the Golden Age of Comics! 100 Big Pages of darling detectives! Gorgeous gumshoes like: *Glory Forbes *Sally the Sleuth *Betty Blake *Jane Martin *Gail Ford-Girl Friday... [click here for more] | Mini-Komix | $3.00 $0.99 |
| Buy a ticket for the greatest show in the galaxy, the Grand Old Space Opera! Sprawling stories of the starways featuring aloof astronauts, moon men, space sirens, futuristic fears, planetary princesses, apocalyptic amore, Martian maidens, dimensional dinosaurs, armored androids, and a history eraser button! 100 Big Pages!... [click here for more] | Mini-Komix | $0.99 |
| Parody Parade gathers Golden & Silver Age spoofs. Satire on famous comics like Lil' Abner, Buck Rogers, Little Orphan Annie, Flash Gordon, Joe Palooka, Dick Tracy, Mary Worth, Bringing Up Father, Archie, Steve Canyon, Pogo, and Mandrake the Magician. 100 Big Pages of impractical parodies!... [click here for more] | Mini-Komix | $3.00 $0.99 |
| Mr. Mystic's Mystical Comics collects the first 5 newspaper chapters of Will Eisner's original superpowered hero. 100 Big Pages of supernatural thrills and chills! Also included are several magical tales from classic comics including: *Witch's Way *The Whirlpool *Moon Magic *The Valcourt Ring *Evil Essence *Beyond The Door Of Death *The Mystery Ships *Beliefs About Ghosts *The Striped... [click here for more] | Mini-Komix | $0.99 |
| A better future. Or no future at all. Super-powered teenager Peter Stanchek is on a dangerous path. Skipping across the country in a desperate attempt to stay one step ahead of the authorities, Peter is quickly realizing that he's a psionically-charged "harbinger" with the potential to reshape the course of human history. But Peter's plight has not gone unnoticed. Respected philanthropist... [click here for more] | Valiant Comics | $9.99 |
| New York City Police Detective Sara Pezzini is the bearer of the Witchblade, a mysterious artifact that takes the form of a deadly and powerful gauntlet. Now Sara must try to control the Witchblade and learn its secrets, even as she investigates the city's strangest, most supernatural crimes. Contains Issue #1-#8 and a cover gallery. Witchblade created by Marc Silvestri, David Wohl,... [click here for more] | Top Cow | $12.99 |